Well I've been thinking about selling my wagon and I figured i'd post it here and see if any of you guys are interested.
1972 510 wagon. It is almost 100% stock. L16 with an automatic. Just installed a brand new 32/36 Webber w/ electronic choke. Doesn't have a radio or speakers. Just had wheel cylinders and front wheel bearings replaced. Currently at the shop right now having all the fluids replaced and getting the motor and brakes checked out.
One issue that comes to mind is the rough condition of the rear hatch. Another issue would be that the front seats are pretty worn but that is to be expected of a 30+ year old car (the front seats are from a 2dr). Tires will likely have to be replaced car has been sitting for a LONG time before I got it. I'm sure the next owner would be swapping wheels off it anyways. Oh and its missing its hatch vents.
Car is has only surface rust and pretty much all of it is on the rear hatch. Floors are solid. I'm looking for $1500. Clean oregon title, fresh plates and tags this year.
You can see my progress and build up in my project thread.
http://forum.ratsun.net/showthread.php?t=5465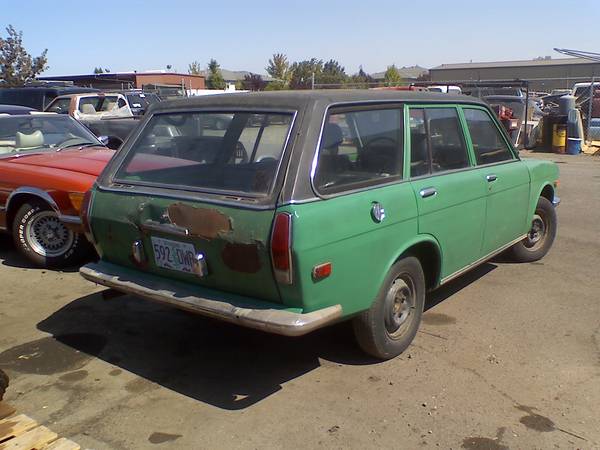 Anyways, let me know if your interested. Its a clean wagon, paint is so-so. I rattle canned it but did a pretty nice job imho.
PS: Yes that is an original vinyl roof.