So I've decided to post a thread in the projects folder. Since I am lazy, and have already written a bunch about the car, I will use edited stuff that I've already posted on another forum. Just though I'd keep you guys updated on my car's progress.
April 2004
Warning: I have no motor building experience. I have installed a motor in a car before and have done other external wrench turning, but this is the first project of this type that I have ever attempted. My lack of knowledge and foresight has been expensive, and if I had the choice, I would do things differently, but so goes life.
Everything up until this point:
I bought my 4-door 1972 Datsun 510 in April 2003 from some dude in Oakland, CA. The car was bought with the intention of making it my competition car for auto-x, track days and solo I/hillclimb. This is the 3rd 510 I've owned and I had a pretty clear idea of what I was looking for. I bought a car with nice suspension parts and a hotted up 1600cc L16. The price was right for a rust free car with the suspension goodies in place. I didn't care so much about the motor at the time, since I was planning a big fancy modern motor swap (SR20DETZOMG!).
When I picked the car up, I noticed it was SLOW. The motor had hardly any low end torque (due to sporty cam, porting on the head and the headers was assuming), the mid range was OK, and then the motor ran out of breath on the top end – the single down draft Weber wasn't helping. 0-60 was around 15 seconds. SLOW. On the plus side, it handled really well, and it really was rust free, had all the trim, and the dome light even worked!
I drove the car this way for the whole of last summer, while dreaming up plans and such. I made a pile of cash in June and bought myself a set of Panasports to congratulate myself for being such an effective earner, and then I promptly had little work until October (movie industry is very variable), so no more upgrades for the summer. But after attending an auto-x and having the announcer comment that "it sounds like your valves need adjusting", I decided to take it to my mechanics (ATEB in Burnaby, BC) to have the adjust the valves and take a closer look at the motor. I hadn't had anyone really poke around too thoroughly with the motor since I didn't really care about it, but there was a big local 510 cruise coming up (10 hour round trip), and I didn't want to end up stranded.
My car and I at its last auto-x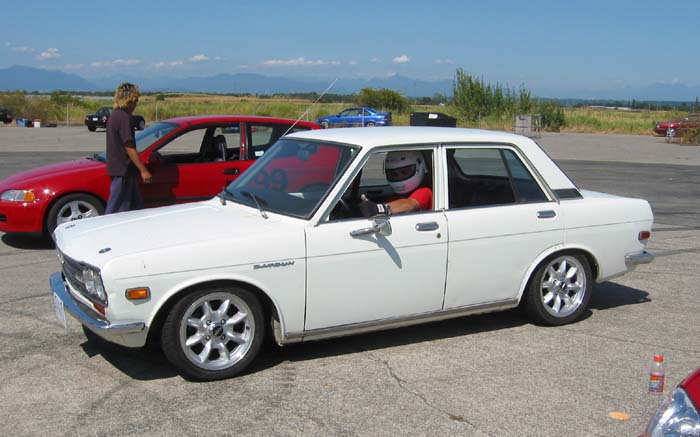 Much to my dismay, I was told that cylinder #1 was reading no compression. The head comes off and we discover a hole burned through the exhast valve. Damn – no wonder I was getting no power.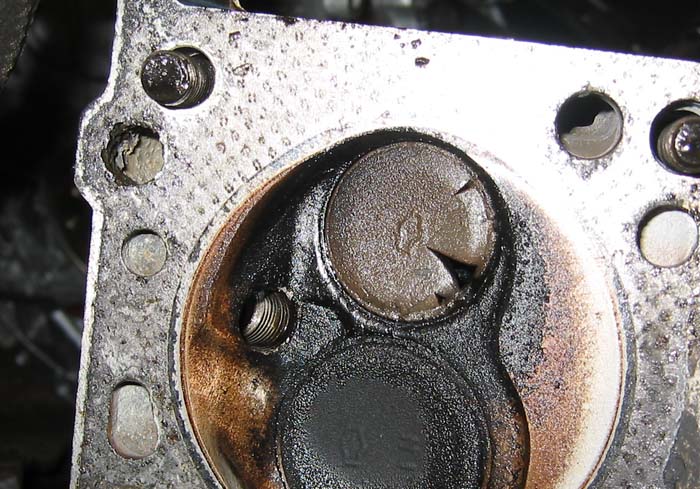 "Well", I thought, "I have an old stock L16 sitting in the yard at my shop that I pulled out of my old wagon – I'll just pull the head off that and drop it on my motor to keep it running until I can swap in a new motor" – no problems, right? I spend an afternoon tearing apart my old wagon motor to discover a rusty mess. I was at that point also informed that the chain tensioner needed to be replaced on the original block in the car. Knowing full well that the bottom end of the car's L16 was all-original from 1972 and vibrated like crazy, I decided that any money or effort spent on it aside from a full rebuild would be foolish.
Useless stock L16 head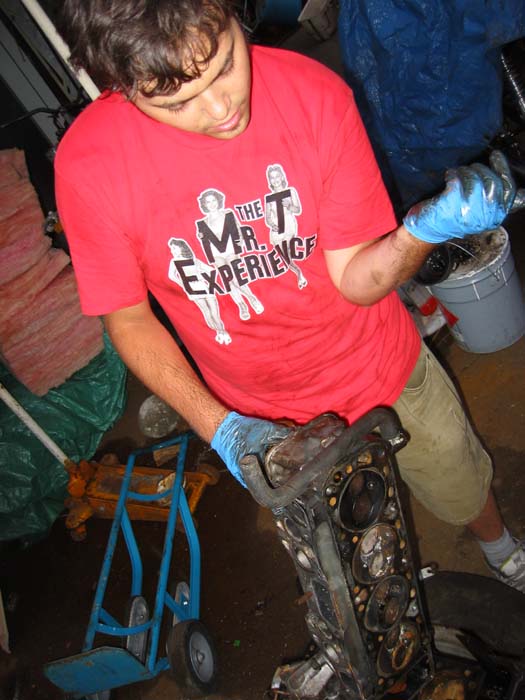 So at this point, I had a pair of useless heads and a worn out bottom end. Next step – find another motor. Well, it so happens that my father used to stage rally a Datsun 610 in the early 1980s. He race prepped an L18 in 1979, drove the car for a season or two (about 5000 miles), and then promptly rolled it into a ditch. I remember the car sitting with its caved in roof and broken windshield in our downstairs garage for many years. My dad stripped the 610 of its good parts sometime around 1990 to make to room to build his Caterham Super 7. One of the things pulled was the built L18. He initially considered it as a powerplant for the 7, but ended up with a crossflow Kent motor. This motor then sat in that garage for 5 years, and then another garage for another 8 years waiting to be used somewhere.
My dad building the motor under supervision of my brother and I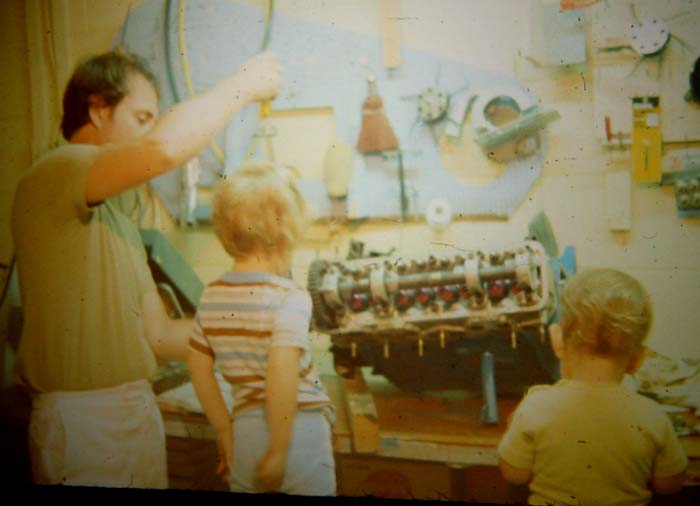 The rally car, pre-rollover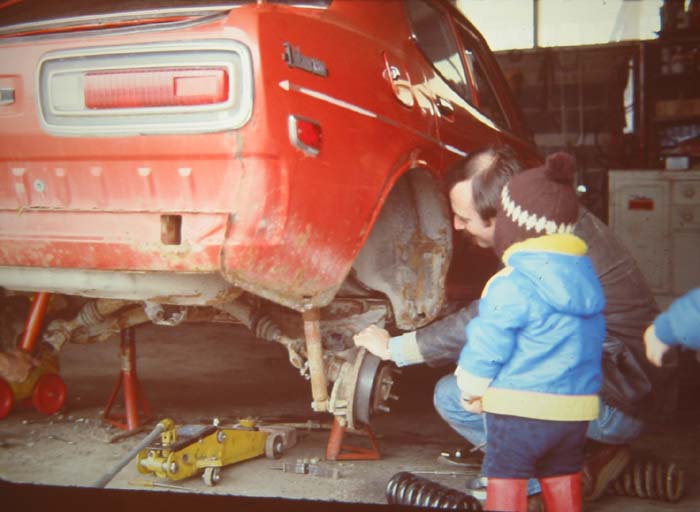 Enter me in 2003 – it seemed logical to me to get this motor and drop it in my car – it is a direct bolt in. Sure it may be set up with a super peaky rally cam, but who cares – free race motor, you can't go wrong with that – right? I called my dad and asked if I could have the motor, and if he'd be willing to pallet it up and ship it from Ontario out to me in Vancouver. He agreed to do it if I convinced my brother to help him. My dad ended up doing most of the work, but my brother made me promise to use it and not to abandon the project since he spent a few hours of his precious free time getting it ready for me…
A couple of notes about choosing the 1800 over other motors: Once I had committed to getting this motor, I decided that this was THE motor I would be running in my car for the long term. The major reason was that a very small number of 510s were actually imported to North America with these blocks, and as such it becomes legal under the update/backdate rules for racing. Basically, it is the largest motor I can put in my car but still remain under Street Prepared rules for auto-x and hillclimbing. This is important firstly because my car would take major preparation to be competitive in Modified class (the next step up around here), and would take full race car safety preparations to be allowed to hillclimb as a Mod classed car. By staying in SP, it allowed me to have a more laid back type of race car, that could potentially win trophies
The plan at this point seemed really simple. I already had the original pair of Weber 45mm side drafts that were run on the rally motor, I'd just get the motor dropped in, the carbs rebuilt and then I'd be up and running again! No problem!
It was also around this time that I decided to go ahead and get the engine bay painted to match the future exterior color of the car (type-r white), and since my friend's body shop was 3 blocks from ATEB, it was easy to tow the car over there.
Freshly painted engine bay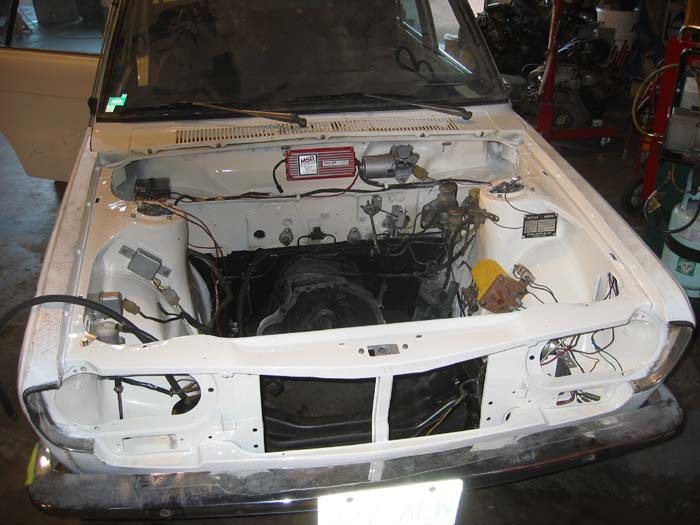 A couple hundred dollars later and a week or so later, the L18 arrives at my shop on a pallet. Nice. Less than $300 for a built motor that will drop right into my car! Then the nightmare begins – the crank was frozen. Much penetrating oil, some seeping time and leverage on the crank pulley and I broke it free. At this point I decided to get a professional opinion on the condition of my new mill.
The new motor with the head removed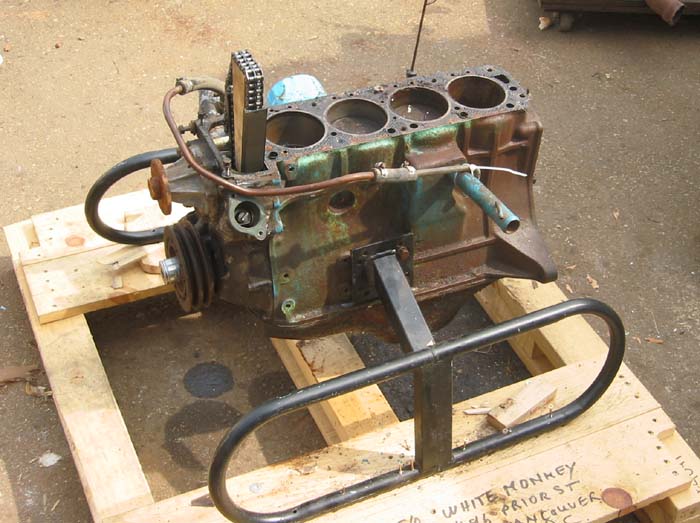 I took the block and head to the closest machine shop to my house – S&R Engine Rebuilding. This place was a dingy little motor shop with engine parts everywhere. It was run by a couple of nice Chinese guys Sonny and Roly (hence S&R). Things really started to get rolling. They told me that the block would need to be bored out due to pitting on the cylinder walls, and the cylinder head would need to be redone due to massive corrosion on the valves. Essentially at this point I was committing to a full engine rebuild (in my apartment no less), although I didn't realize the implications of this at the time. It really didn't sound like much until I started sourcing parts. Boring means new pistons, buying new pistons means finding them and then buying them. This took some time. A couple of false leads on some nice forged units ended with me buying a set of OEM Nissan 280ZX flat top pistons (for more compression) from a Nissan dealer in the states about a month after I started looking (October 2003 I think).
I had also decided at this point, after looking at the pair of cylinder heads I had to use the one that came with the car with the burnt valve rather than rebuild the L18 head. The old head was a close chambered and also had been ported by Rebello racing by the former owner – being that he generally didn't make very clever modifications, he did not choose to port match the intake which was odd. I had S&R rebuild this head and replace the burnt valve.
Around this same time, I had decided that rebuilding the side draft Webers was going to kill me financially as well as make the car beyond my tuning skills and a no-go as far as passing emissions. I decided that a EFI system would be the way to go, but first I would need to get the motor back together, so this was put to the end of the list for now.
In the meantime, my engine bay had been painted, but I had no motor to put in it. I couldn't just leave my car at my friends shop or my mechanics, and I didn't want to tow it home as I could imagine it falling into "never finished project" status in a $50/month parking spot. I wanted to keep driving my car at all costs to keep myself motivated to work on it. Luckily, 510 enthusiasts tend to be very helpful, and Byron lent me a totally stock L16 to put in my car to keep it on the road (THANKS BYRON -- YOU RULE!). He had seen the motor running for about 5 minutes, so he was confident that it would run for me. Happily, it did run for me – but while burning copious amounts of oil producing plumes of smoke out the tailpipe. It also leaked oil from every conceivable spot, spraying my brand new paint with black filth before I even got it home. That sucked, but my car was running again – on 4 cylinder even and with more bottom end than the orignal motor. Still rocking 15 second 0-60 times though (G-Tech verified in early 2004).
In November I got back my rebuilt engine parts (a bare block, a rebuilt head, new pistons installed on the old rods and cardboard box full of parts), and stashed them under my workbench. When I picked up the head, it was pointed out to me that the area surrounding the cam sprocket dowel on the end of the cam was missing a sizable chunk of cast iron. Well, I don't want to use a cam that could potentially fall apart in my engine, so that cam was now rubbish. To replace it, I tracked down a custom ground latest and greatest do-all hot streetable L series cam from well known Oregon 510'er Kelvin Dietz – at this point I also purchased an Z-car oil spray bar which will can be fitted into my engine. Add another couple hundred bucks onto my pile of disappearing money.
Work had picked up by this point and I didn't have much time to think about my car, so the project went into a winter hiatus while I spent my time working on other projects. Spring started to loom large and the weather kept getting better around here, and I decided that I should really put some effort into putting all this hard spent cash to use, so I became embroiled in the project again.
I had been casually looking for piston rings for the last couple of months with little success. All the parts stores could find the parts, but they were weeks away from getting them or they'd simply say "we'll call you when the get in", and they'd never call. Turns out the ZX flat-top pistons were never used in Canada, and none of the Canadian catalogs had the proper parts listing. The Nissan parts counters didn't have them either. It was at this time that I stopped by Specialty Engineering and got them to order some in for me. Chalk up another 1.5 c notes.
Now that I was on track to really get things going – and I set a deadline for myself. I wanted to get the car running to pass emissions in the end of April (ed note: HAHA), and fully working for the first regional auto-x in early May. I do well with deadlines (ed note 2: HAHAHA), so these were a good thing to put in place. I bought a $50 1200lb engine stand and set it up in my apartment with a 5" riser mod to allow the block to fit over top of my work bench for better storage. I also finally got smart and took out "How to Rebuild Your Nissan/Datsun OHC Engine" from my local library. Thumbing through it, it quickly dawned on me that I was very far away from actually assembling anything. There was a whole chapter on just carefully inspecting the motor parts, which I hadn't done at all. Plus all their recommended cleaning and whatnot – it seemed very daunting. A quick scan over my parts left me with many questions and few answers. It is hard to judge what is acceptable wear on something when you only have a grainy black and white photo to compare to, and no previous frame of reference. So, like anyone who is trying to avoid doing work themselves, I decided to take all my parts to a machine shop to have them do all the check work and cleaning.
My engine stand in my apartment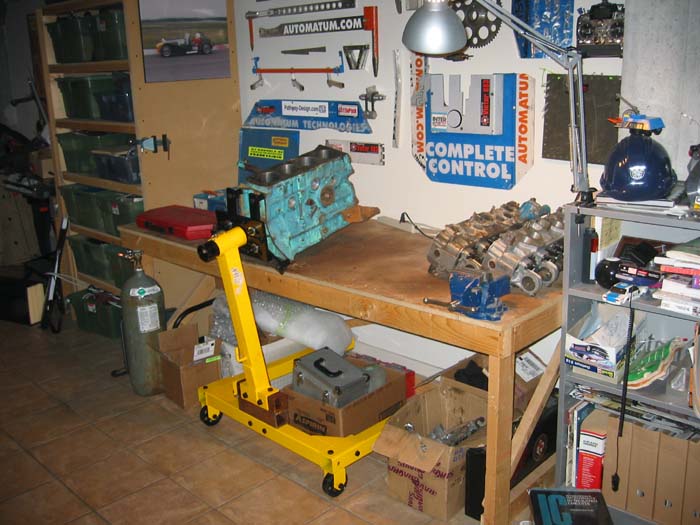 I thought at this point that it would be a good idea to get my crank and rods balanced. Since I had some major communication issues with my old machine shop (S&R), I asked around to local Datsun guys for a reputable local shop that did this type of work. I was sent to High Performance Engines Ltd in Burnaby (thanks 510Rob for the suggestion) who apparently did excellent work (lots of photos of local drag cars in their office). I hope they do, as I managed to drop nearly $800 there. The block ended up needing to be decked, the crank was bent (probably due to the extreme conditions my father subjected it to), the rods needed to be resized and they did a bunch of other stuff (too lazy to grab the work order right now). The best part was that the block and parts came back clean and ready to assemble, and they sourced me all the right shell bearings for the mains and rods – now we're getting somewhere.
During this same week a stroke of good (don't know yet for sure) luck hit and a full EFI set up for 4 cylinder L-series motors was put up for sale on the Bluebires email list. Included in the package was a beautifully fabricated custom EFI manifold made from a modified dual carb manifold by a race shop called Raver Motorsports (apparently they do mostly Honda stuff now), a 300ZX throttle body, early model 200SX throttle cable and pedal, a fuel pressure regulator, a mid model 200SX fuel tank with in-tank pump (that will fit in the spot of the 510 tank), a set of perfect injectors, a 200SX EFI computer, O2 sensor, etc, etc. Basically everything I needed all in one tidy package. A guy had been stock piling this stuff for his own car, but then shifted to a Z, and decided to get rid of it all. After a lengthy back and forth email trail, I agreed to buy the set up, as I figured it was the only way I was going to get my car running under EFI before my personal deadline. This was a big purchase, and I haven't actually picked the parts up yet, but I am optimistic that things will be good.
Most of the EFI parts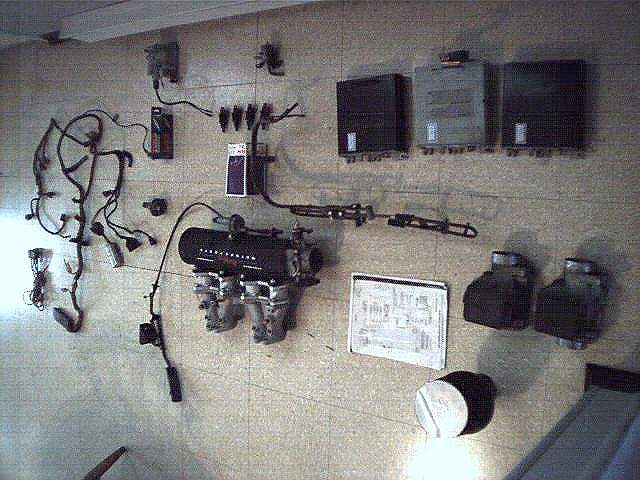 Another hundred-dollar surprise I came across that week was that all sources told me that new cam requires new rockers. Well, new rockers from Nissan are $40 each (I need
, so I will just be getting my old ones reground (Specialty does this), to save some cash – but it will still cost me something.
So now we are approaching my current situation. I have nearly all the parts, some of the knowledge, a few of the tools and very little money left over (the first time I have been the red for years). I just painted the block on Wednesday, and if everything goes well I will start assembling the bottom end this weekend (ed note 3: I was lying). The 510 club president is loaning me some of the specialized tools to complete the job, which is nice (THANKS AGAIN BYRON -- I will get you back your stuff soon -- I promise!)
Here's the painted block after I got it back from High Performance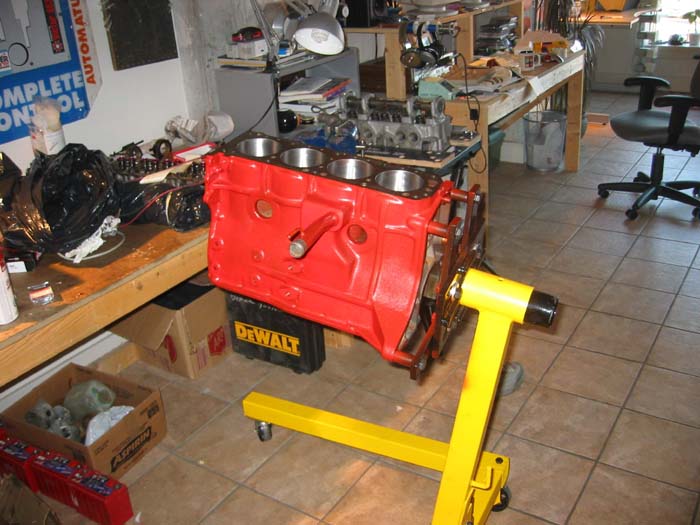 Once I get the rockers back I then need to set up my cylinder head with my new cam and spray-bar, which requires installing the Z-car cam towers. I have been reading up on this whole valve train set up procedure and it looks laborious with much potential for problems, so it should be a laugh.
Here I am, barefoot, wrenching on the old L18 head as a practice run for my good setup.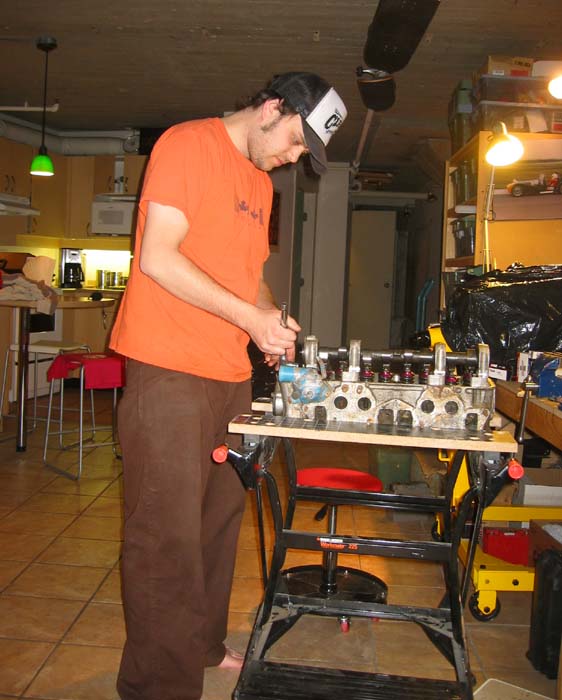 Once the motor is together, I will be taking the car to Specialty to have them drop it in the car. I'm going to have them install a new Roadster clutch and lightened flywheel, and they will also run the EFI fuel lines for me and perhaps more… we'll have to see how things go.
I think it is still possible for me to make my deadlines. I've done much more in less time before, but this is still all brand new, and it has taken so long to get to where I am now, so I had better pick up the pace a little.
I will update this thread as the project progresses. And in case you were wondering, the current dollar total for this motor build is right around the cost of a really good imported SR20DET with ECU and transmission. To make matters worse, if all goes well, my motor will only make around 130hp at the crank. Even so, I regret nothing -- at this point I am just keeping a family heirloom going.
FLASH FORWARD TO LAST WEEKEND
I finally finished building my L18 (as shown here) in my apartment -- a process that took a good year or so, but most of that time was sourcing parts and procrastinating. The actual assembly probably took less than 20 hours.
Specs:
L18 block from a 1973 Datsun 1800 (610), from my dad's former stage rally car (raced and rolled in the early 80s).
Bored 1mm over to accept Nissan 280ZX flat top pistons, raising compression ratio
Machine work by High Performance Engines in Burnaby, BC
Balanced and straightened crank
Balanced rods/pistons
New high capacity (turbo) oil pump
Stock crappy L16 top end (temporary) with Weber downdraft carb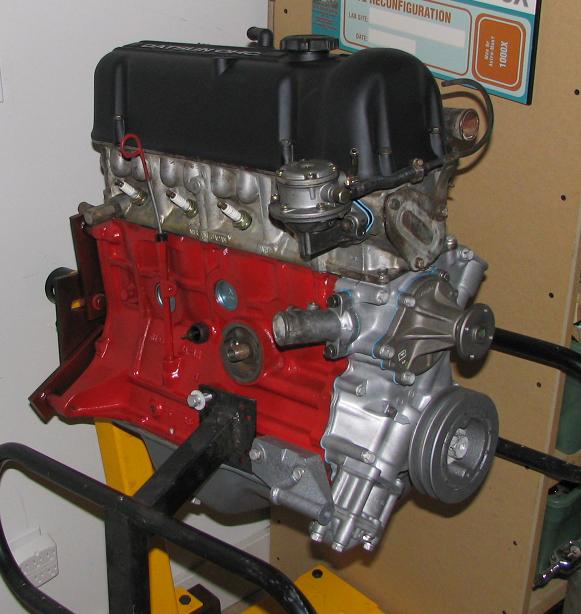 I originally built an L18 (as opposed to an L20B or SR/KA/VG) to remain in Street Prepared class under my local auto-x/Solo 1 rules. But I just found out that in 2007 we will be switching to SCCA rules, which will bump my car out of SP and probably into SM due to suspension and brake mods, so this is kind of a moot point now. With the popularity of modern motors in old cars, I like the idea of keeping an original type motor in the car but having it updated to make it more useable (IE EFI). In the end a KA swap would have been much cheaper and made more power, but no turning back now.
Anyway, This past Wednesday I had my car towed to Specialty to have the motor installed. As an aside, if anyone has $40k to burn and a car that warrents a one-of-a-kind engine swap, they bought up a bunch of Infiniti IRL V8 motors and parts. 700hp enough for you? While the motor was being dropped in, I also had all the clutch system redone with a Datsun Roadster unit (good to 200hp), new master/slave and a lightened flywheel. Andy said the underside of the car solicited many oohs and ahs -- this is why I buy cars in California.
The motor install went fairly smoothly, and my car was ready to pick up on Friday morning. After some initial tuning, the timing had to be retarded quite a bit to keep the engine from pinging. 9.5:1 with a stock L16 head and cam will do this. But the car was running really well once it was adjusted and I was on my way to fill it up with 94 octane and to seat the rings.
I have been driving it as much as possible since then, and was planning on auto-xing on Sunday, but my shitty job got in the way again, and I've been working all weeked. Saturday night after dinner I took it out to my test road (Terminal Avenue between Main and Home Depot, for you locals), with my $30 G-Tech meter to test for improvements. Well, the last time I did this with an oil burning stock 1600 I netted 0-60 times of 15 seconds. Well, the car now certainly feels faster, and the G-tech reflected this with 11.14 and 11.20 for my 2 passes last night. Much better. It pulls pretty well at mid RPMs, but the stock head really fap anywhere past 5500. This will be adressed shortly. I didn't bother running 1/4 mile times as this is in a 50kph zone in the middle of Vancouver, not some abandoned rural road.
As next up is to put together my A87 cylinder head (rasing compression ratio to 10.5:1) that originally came with my car. Featuring Rebello Racing port work, a DAMB L series cam (the current last word in dual purpose street/race cams for these motors), a Z car spraybar and a custom EFI system to replace the Weber downdraft. Looking to have this done for the spring, all I need for parts right now is new rocker arms and a megasquirt or equivalent. Andy also pointed out that I could do with a much better exhaust system (it necks down horribly after the Nismo long tube headers), so at some point that will happen too.
I also found out this week that my painter friend has penciled me in for the christmas break to paint the car (my birthday present from my girlfriend) -- and I scored a perfect color match (red) set of Toyota Celica seats for $25 (thanks Paul!) Everything's coming together finally...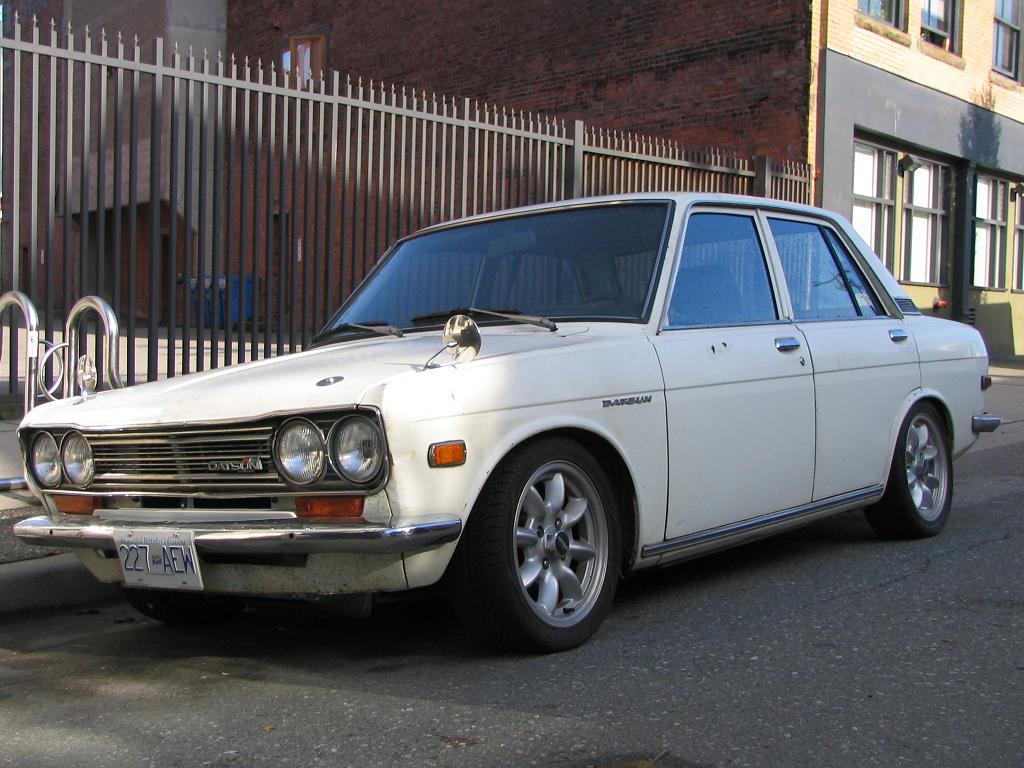 Wowee!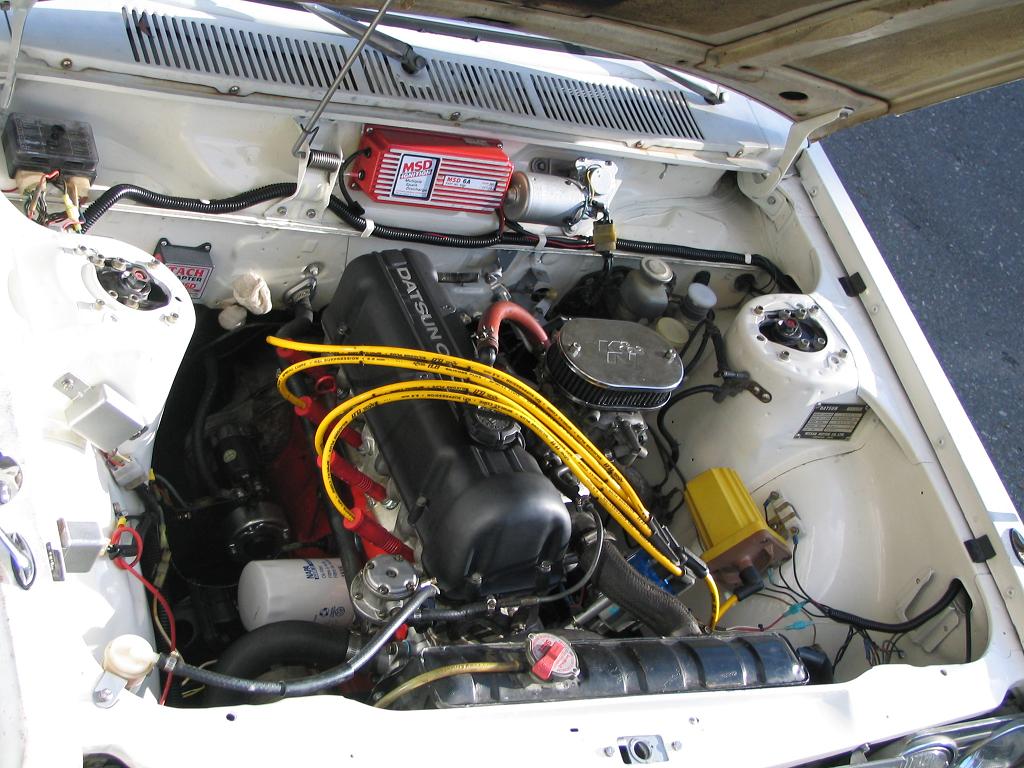 Long post, huh?
So that's pretty much it at the moment. I'm working on getting the Celica seats in tomorrow and then I'll have a permit on the car for the Auto-x on Nov 14th. Maybe I will see some of you there.