I saw that you've listed the car on CL locally.

After all that work, you won't want to keep it?

Byron
Love people and use things,
because the opposite never works.
---
I would love to keep it but I dont have a safe place to keep it. I would hate to see all my hard work go to shat
two_68_510s wrote:I guess our donkeys are quicker then your sled dogs!
---
Yeah, this is why I sent the Goon to a new home way back when...if I'd kept it where it was it wouldn't have been worth keeping.

Glws
---
thought I should tell the story of my 68 510 as it has some history.
one summer back in the early 90s Ricky Ready was 4x4ing somewhere up the Cowichan valley. they stopped on the side of a forest service road to enjoy the view. bellow glinting in the trees was chrome. they climbed down the steep cliff to find dozens of cars suspended in an alder grove. most of the cars were destroyed by the trees growing up through them. but right on the edge surrounded by trees was a green 68 510. with the camping trip over Ricky tracked down the owner of the property( an old lady who's husband had recently passed) and gotten permission to salvage the car. with acres of trees blocking access to the car they hired a small wrecker to traverse the fsr and retrieve the car from the top of the cliff. things didn't go as planed.....
with the 510 on the hook they started winching and drug the tow truck off the side of the cliff. the cheep car was looking pretty expensive at this point.
but they needed to retrieve the tow truck. so they hired a bigger truck that pulled the fist wrecker and datsun up through the trees and onto the logging road.
the car was cleaned and brought to the mainland were it was promptly sold to Jason.
for years I would drive past this ever greening Datsun and new that one day it would be mine. my boss at the time would never stop. so one day I took a former 510 club of BC president (Lewis) down river road and we stopped in to get a feel of the ownerand a better look at the car.. well the Datsun community is small and Lewis new the guy. we had a beer and talked datsuns for hours.
within a few weeks I was working for jason and paying off my first 510.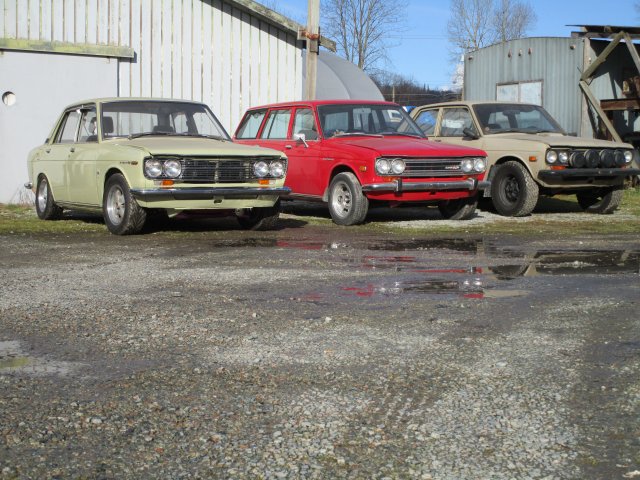 these other ones.... they also came from Jason
two_68_510s wrote:I guess our donkeys are quicker then your sled dogs!
---
That's quite the backstory, definetly shows the unique story a lot of old iron has.
---
---
Return to "Featured Project Builds"
Who is online
Users browsing this forum: No registered users and 3 guests