Techno Toy ZX Big Brake Troubles
Posted: 05 Oct 2016 01:16
Hi Realm,
I recently stated upgrading my 1972 4 door 510.Completely stock with 15" Swastika Z mags. Its my first upgrade so I am learning as I go.
I started with suspension and brakes upgrades in anticipation of a larger engine swap (ka24 or sr20 most likely)
From Technotoy Tuning I purchased a ZX front coilover Set with camber plates, 12.2" Wilwood big brake kit, adjustable LCAs, Adjustable TC rods, a Silvermine rear disc single piston brake set , 1" master cylinder, proportioning valve plus some other small stuff. Also added a Z hub set used from the Z shop.
Rear disc set bolted on nicely with no issues save that the ebrake fittings dont match up. No big deal really.
Front end has been causing troubles.
The Caliper on the brake isnt fitting the 15" Z mags so we are faced with either modding the mags and the piston or putting spacers on the hub. Kind of a bummer since the caliper is nice and new and the Z mags are basically mint and dont want to damage either.
The spacer works but then leaves my 6" rim and tire out past the fender well. I would prefer not to flare the fenders as it is a four door and also because its got decent paint and all metal. Not to mention I promised the guy I bought it from that I wouldnt cut it up (unless I had too....)
I put a similar post on Ratsun but no one seemed to have any suggestions, though lots of lectures about using such a large brake set. Realistically though most of the new upgrade stuff available is 4 piston front and I did want new components so....
Any ideas from the realm??
The best ideas I've got is ;
16" + offset rims which are a bit cost prohibitive and I would prefer the look of 15's. Also many of these will hit the caliper also.
Run the spacers and flare the fenders which I prefer not to get into for reasons already stated.
Swap the brakes out and put in some smaller brakes. this may be the best alternative and realistically a safer bet for the car.
Appreciate any feedback....
Wilwood Brakes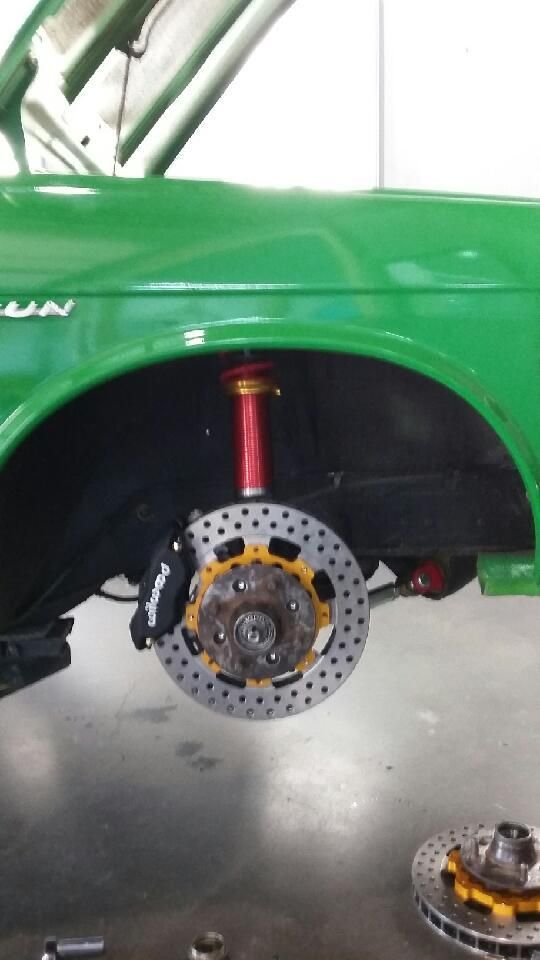 Original suspension and high ride height