Hi, I introduced my self in the introduction thread but quick background, use to have a 710 but ended up selling it, but it was fun. I worked at a nissan dealer for a while, then got recruited to work for Mercedes Benz, then I decided I wanted to try something different so I joined the Army, and let me tell you I miss wrenching, and my tools are very lonely and need love so its about time I get a project, but I am about to get deployed so the project will be waiting for me when I get home. ( just bought a new (to me) home with garage, so perfect place to finially start) Got tired of paying rent lol.
I have been wanting a 510 for over 10 years now, and while looking through craigslist I stumbled across this 71 shell for $1000. I really didn't have the money for one at this time, I didn't think I would find one for a while that was less then 2k and wasn't rusted out, so while i'm not sure if $1000 was too much for it, I couldn't pass up a opportunity to buy a solid car with virtually no rust as it originally came from Oregon. Since the car was 3 hours away, I didn't want to go all that way and not be able to buy it if it was infact a half way decent car, so I managed to scrounge up the funds I didn't really have (still recouping from Christmas lol) and talked to the guy and we worked it out. I didn't bother to haggle price since he would be towing it to my house, and it would be cheaper for him to do that then for me to tow it. He will be delivering it by Wednesday, so hopefully everything goes ok, and i don't get screwed, I used paypal for the majority of the payment so some protection there. I just had to post so you can see my project, and I am finally a 510 owner!
Now he is said he would give me the extra door he has, as well as 2 dash frames and one with a vin. Not sure if that is something of value or not. The car supposedly has zx brakes in the front. I noticed it is missing the rear drum on pass side, and there are some broken studs. He also told me that the car had fiberglass fenders and hood, and he traded those off to get the steel ones, but the bolts are missing so thats why the door is off and the fenders are just sitting there. It has all the glass except for the driver door. It does have the front valance but not installed, but its fiberglass. So as you can see from the pics the car is missing quite a bit of stuff, like trim, and seats and bumpers. But from what I can tell there is hardly any rust except one spot on the front lower part of the front window. I didn't really see any dents in the car except a few below the doors. The car has been hit on the pass side and repaired, when I looked it didn't look like a very good job had been done, but I will get it properly repaired, or learn to do it my self. I only saw minor surface rust except one spot by window, I will post more and better pics when I get it in my garage.
CL and text photos
Photos when I went to see it. Thats not me in the pic btw, accedently got him in the pic. opps lol. Thats my pathfinder LE in the back ground BTW (love it!)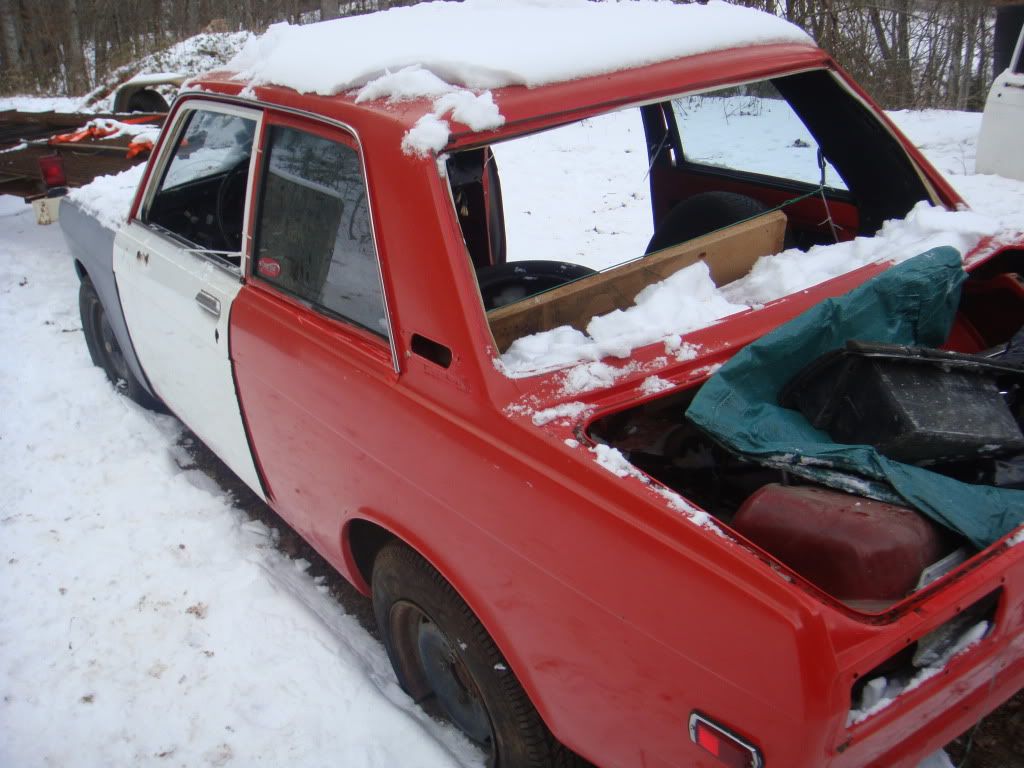 So hopefully this will be in my garage by wednesday.
Plans for the car
Will be used occasionally during the week as a DD, but not everyday
Can take to autocross/gymkahana
Basicly a steet car that I can just have a blast in like all you other datsun guys do, and go to meets and have more fun.
SR20DET blacktop w/ 6 speed trans
Willwood or brembo big brakes all 4
Coilover suspension and camber plate setup
Tilton style brake setup (reverse mount master/clutch cyl) maybe.
Too many other things to list that I want to do. It will be similar to most of the other awesome sr20 swaps you guys have done that I have seen on this forum.
I know just the first 3 things I listed are expensice, so this will be a build as I have money slow build, and I am about to deploy so it will be waiting for me when I get back, and while I am gone hopefully I can pay off some bills, and buy some stuff online to be shipped home so I have parts to start working on when I get back. Feel free to offer advise, and any recommendations of venders products or if you know something will work better throughout the build.