Does anyone have the link on this removal?
I am starting to think Im doing something wrong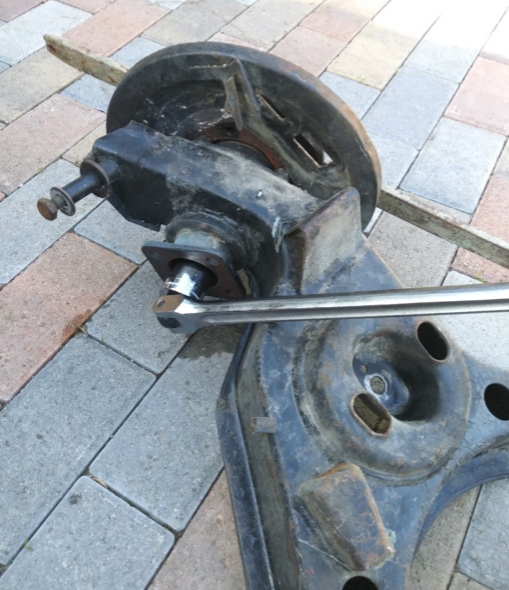 ---
Bolt very tight. But you have to remove the peened over flats on that nut before doing anything else. Dremel cut off wheel is my weapon of choice.

And a much longer pipe on that wrench once you get that nut flat thing handled. And maybe some very large friends to stand on the swing arm, or a much longer bar on the wheel studs AND a large friend or two. Or put it back on the car.
---
I've had my best luck with it still on the car.
'72 2 door KA project | S14 RB26DETT (sold)| S14 RB25DET | '90 Audi 90Q20V (sold)
---
Supporter
Posts: 544
Joined: 12 Sep 2004 19:42
Location: Abbotsford B.C.
Yep, Jordan helped me with my car and we left it on the car.
---
Supporter
Posts: 1216
Joined: 03 Mar 2009 11:58
Location: New Hampshire
Out of the car and that nut will definately require a large bench vice or a really good impact gun or both. The 230ftlb of applied torque also applies to removal torque plus the power of corrosions holding torque. PB Blaster and heat helps a lot and you don't need to be a big guy I'm not and have removed those with a 30 inch breaker bar before getting a good impact gun that removes those nuts without breaking a sweat.

Good Luck!!
"Lastnight the wife said oh boy when your dead you can't take nothing with you but your soul oh "Think"
- John Lennon
---
In the car and weight on the wheel, and the nut will move fairly easy as you can hang on the breaker bar.

But he's, the nut is Lee we over. And if you e already tried to move it without grinding off the leaned o ernoart, you e likely just screwed the threads on the stubbshaft. All would not be lost if this is the case. It it will make that nut hell to remover - all the way!

With the arm off the car, you need that outer flange of the hub in a big vice, which would need to be mounted on a very big and heavy bench. I use a 4:1 torque multiplier and need nothing more than a 1/2" ratchet. The multiplier is a nice tool. But a pipe on a breaker bar certainly does the trick.

Byron
Love people and use things,
because the opposite never works.
---