So I have to confess - I've been holding out on you all!
I usually share most things 510 related. However just before having a little surgery about a month ago to halt the family growth and put a limit to RESP contributions - I splurged on this little gem.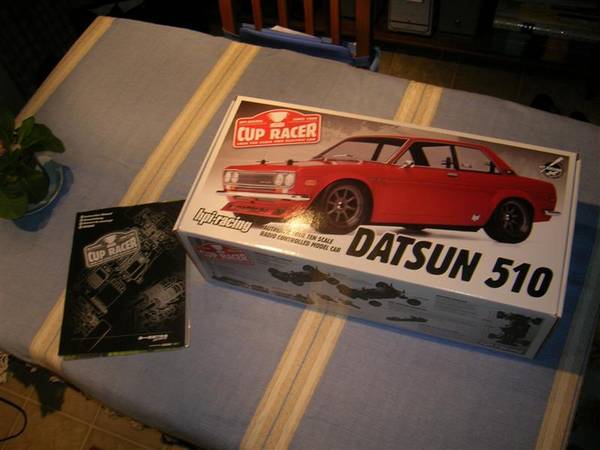 I know I'm not the first to get one of these. I bought it locally from a young guy (who I swear can't be 20 years old) who owns and runs a little RC shop a couple km's away from me here in New West called Team 1. I probably paid a bit more, but he has the knowledge I may need to fall back on, and the spare parts I'll likely one day need - a worthwhile ally!
Anyway, I opened the box a month ago, and have just stared at it. All I did was put the bits in better zip lock bags, then put it all back. I read, and re-read the instructions, then put them back! I've built lots of race cars, buggies, off road trucks and done my fair share of fabrication and machining over the years. But I've never once assembled a model! In any scale or size. I played with trains as a kid (HO and N), but those came in a box, and maybe the odd one needed paint. So last night at about 7pm, after taking a trip to the hobby store and purchasing nearly $100 worth of "scale" tools, I opened the first bag of parts, commandeered the wife's relatively new wood cutting board, and I then totally ignored everyone in my presence until 2am! Yep - it's cool.
I was so tired by the time I packed up for the morning, that I didn't take a photo of my progress. All I did in that time was assemble a couple of differentials (front LSD and an open rear??) and mounted them to the chassis with a driveshaft connecting them. But I'll tell ya, I'm really impressed with this stuff. It's very fun playing with this scale. Some things are a challenge, like installing E clips on shafts that are 1mm in diameter! Yep, my fat, tough of machinist fingers do struggle with this. Times and places I wished I had girl-y hands.
Just before shutting down to get a couple hours of sleep before heading off to work; I of course had to drop a bearing - measuring 4X1.5mm. I could hear it rolling across the floor - but damned if I could see it! Because I was working at the dining room table, and not having a clue in which direction the bushing rolled, I started the search. There are no "spare" parts in the kit! So I was on my hands and knees with a flashlight for 20 minutes – no dice. So I figure I just can't see it against the linoleum floor. I proceed to move 6 chairs, a high chair, a booster seat (tell I'm a family guy!) a few piles of stored debris from the dining room, and there I am sweeping the floor in hopes of finding this bronze bush –nope. So, where could it roll? It did roll for a while, I could hear that. So I started in the kitchen, moved the mat in front of the sink and swept that floor as well. No bushing, but the wife was quite thrilled I was taking interest in cleaning the house for a change… grrrrr! I put the kitchen and dining room back together, pack up and call it a night. The good news was my wife found the bushing this morning in the laundry room! That means that little bushing crossed three rooms turned two 90 degree corners and found a nice home away from home. If the bushings handle this good, I can't wait to try the car assembled!
Anyways, I will update this thread as I go, but here's how the night started.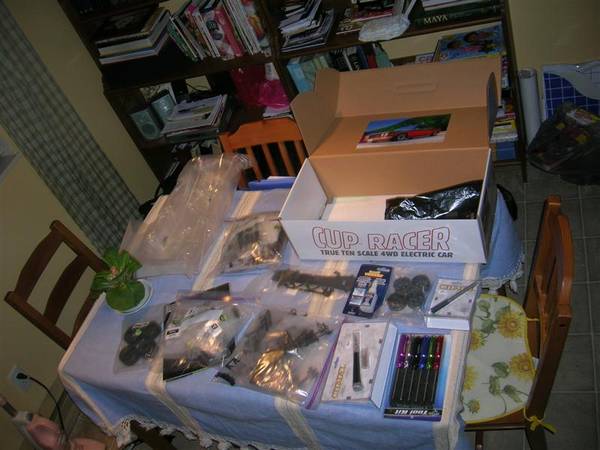 Byron