Somehow last winter i wound up owning a 2000 honda civic hatchback, it did good in the snow, but front wheel drive just does nothing for me. after winter i posted it for sale and began searching for another proper wheel drive car. I found this 86 on usedvic, talked to the owner a few times and set up a time to go see it. I never was to fond of the coupe 86's but figured it was worth a test drive. one quick ride around the block and a check over of the fluids and cash exchanged hands, and off to superstore for some plates we went..
Heres its first day at my house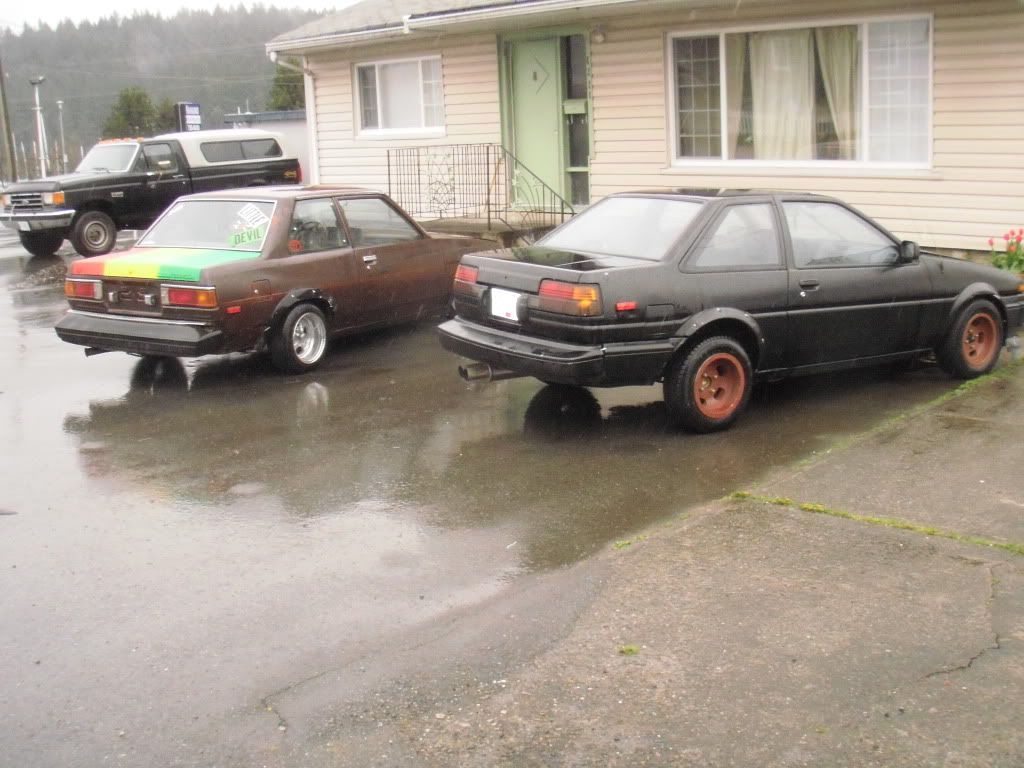 and after a good cleaning
The exhaust was too loud, the rear end needed to be dropped but all in all it was a decent investment. I cut the rear springs/ bumpstops and installed some camaro rear shocks to lower it up and stiffen it some. changed up the tires because they had bigger tires in the front like it was civic drag car. Then i had a run in with our favourite donut loving career criminals and they gave me a vehicle inspection after 13 days of owning it. this lead to me taking off the fartcannon and replacing it with stock 86 piping and a free flowing muffler. it was good enough to get it street legal again.
6 days after passing the v.i. i went to a capital drift event and someone spun in front of me so to avoid them i locked up and spun my car around and gently backed into the wall, no major damage. Broke a bit of my drivers brake light and dented the corner, very minimal damage. used some band-aid brand palm bandages and it was good as new.. But i had no ebrake at this event. so that was on my list to do
that photo was the first event i took the car to. it help up well, but was obviously still to soft. and stock seats wernt up to the holding me in
when i got home that night i hopped onto ebay and ordered myself the complete energy suspension kit for the 86 and some rails for my sparco seat i had collecting dust. just by changing the front and rear sway bar bushings i noticed the car stiffened up a bit. i changed the front suspension to some bottomed out 86 struts on ebay sleeves that i typically run in my 82 wagon. this helped with the body roll as well.
This is before i changed the front struts to the ebay sleeved ones
this is after, its a hard angle to tell the roll on but its alot less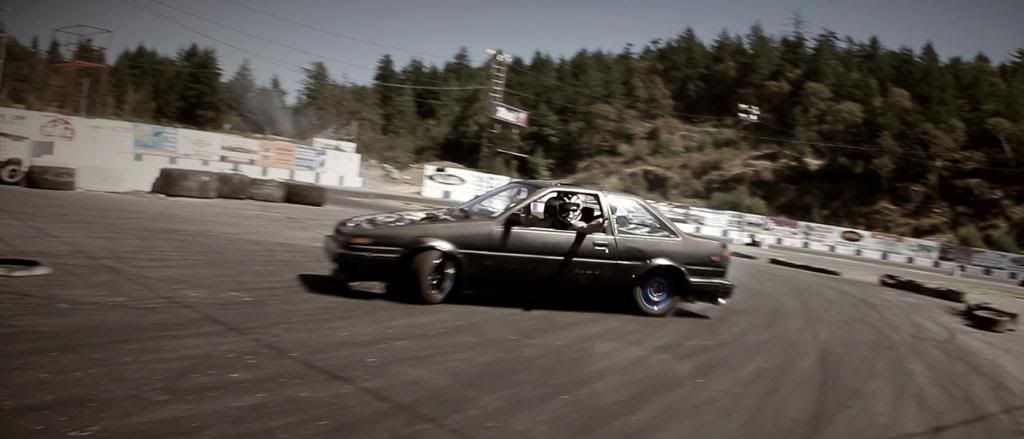 I hit a few more events without really changing much, i ordered a hydro brake and installed it, it worked good for half the event then it started to have problems building pressure, i would avoid the ebay brand products. lesson learnt.
then one week before an event my diff started snapping on right turns, it almost felt to me like it was racheting, so i decided to change the oil, and lots and lots and lots of metal came out. so the diff needed to come out. whoever welded it didnt do a good job, the plate that some people insist is good to use was in the bottom of the axle housing. chunks of spider gears were everywhere it was bad, luckily lukes 86 has a spooled diff and he was willing to lend it to me for the day..
Then i hit the wall
Somehow i managed to just drag the bumper down the back stretch of western, just enough to remove the black paint and show more of the cars original colours
the best part about this car, is i really have no love for coupes, i prefer hatchbacks. so for me if i kill the body thats fine, i just hope to save the 4ag for future fun, so i decided after watching all the more experienced drivers getting into the walltaps and dirtbank tapping i decided it was my turn. it took a few good attempts to get the feel of it and how close the car was getting, and then i found my way into it
http://www.youtube.com/watch?v=JWM203UH ... RQ&index=1
you need to fast forward a bit but thats the video of it.