Well, I guess I'll start a new thread for my latest project so you guys know I'm not dead, and this is what I'm doing while I'm neglecting the Datsuns(I also picked up a '72 1200
)
Ever since I've been little, I've been growing up around 55-57 chevys, and a '55 has always been my dream car. A little while ago, I ended up buying a four door belair and planned on restoring it. While all my panels that were necessary were on backorder, I found a 2 door for sale that cost less than what I was ordering for panels, so I cancelled the order and brought the 2door home!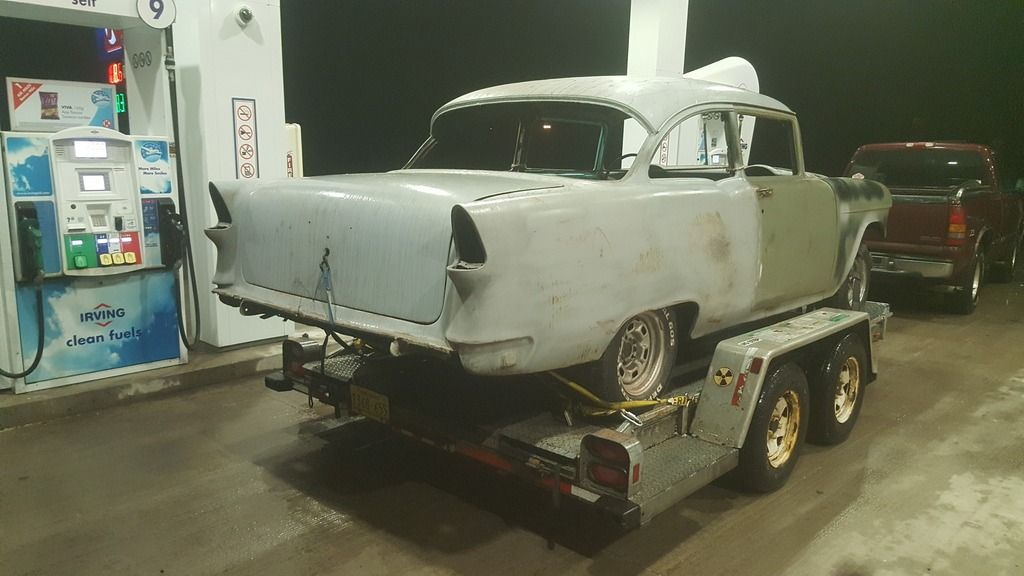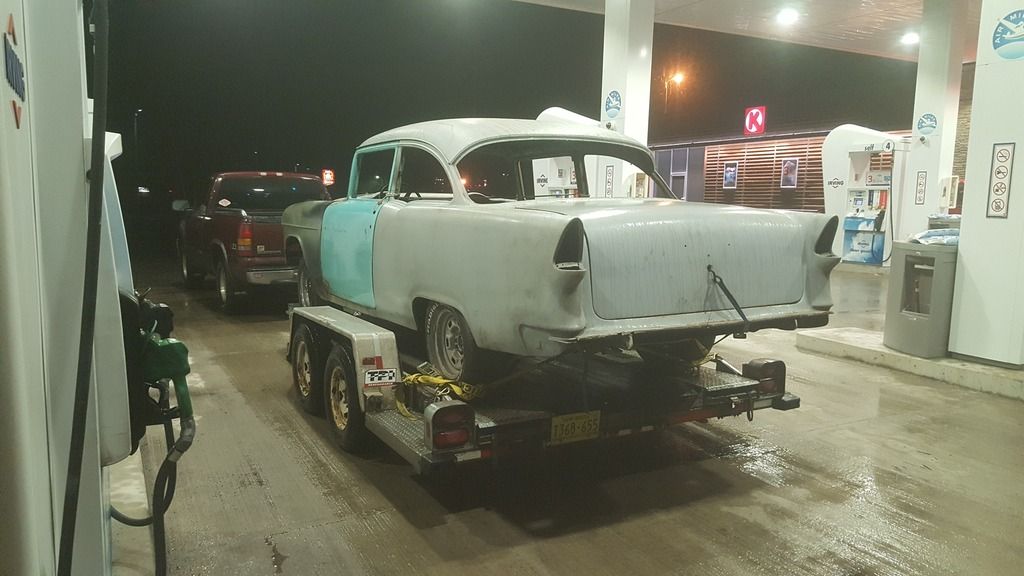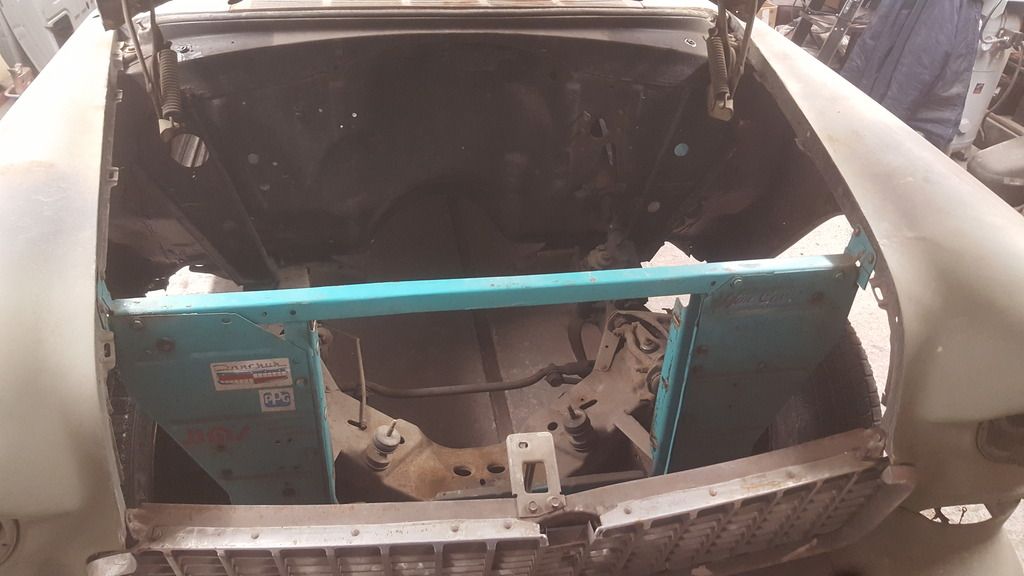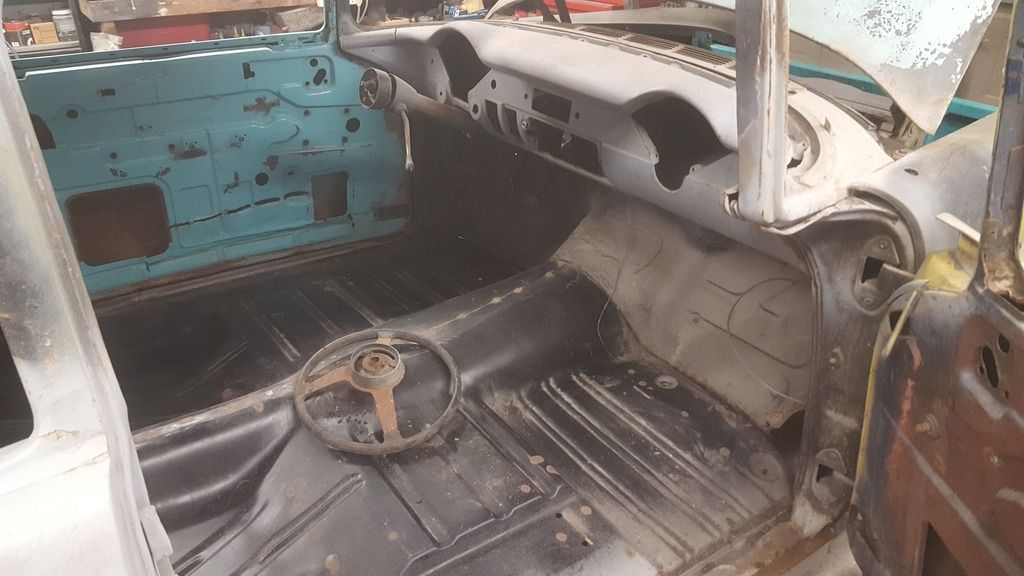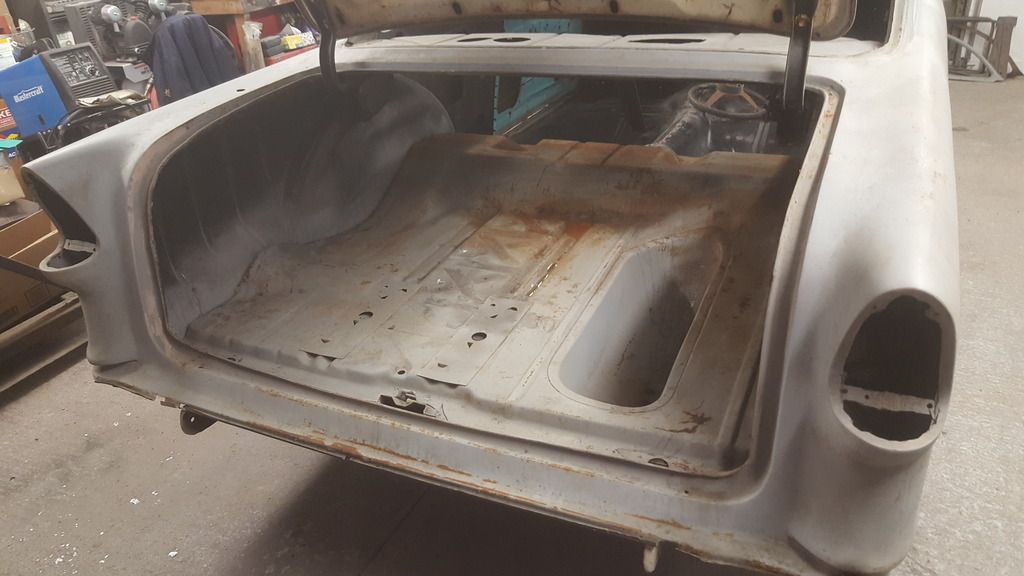 Buying the 2 door saved me so much work(was going to replace basically everything on the four door on top of converting it to a two door).
This shell already had new floors, new trunkpan, tailpan, quarters, inner-quarters, rocker panels + inner rockers replaced. It's just been sitting around for a while so it had a bit of surface rust.
What I've been doing since I've gotten it is just stripping it down to bare metal, and repairing sketchy repairs done in the past. I'm currently getting the firewall, A-pillars + dash ready for a coat of epoxy.
So my friends went up to Quebec a bit ago for the sole purpose of hitting up JDM shops to bring back parts. They ended bringing me back my motor for my car. (which came with a bit of cosmetic damage, along with a busted motor mount ;D)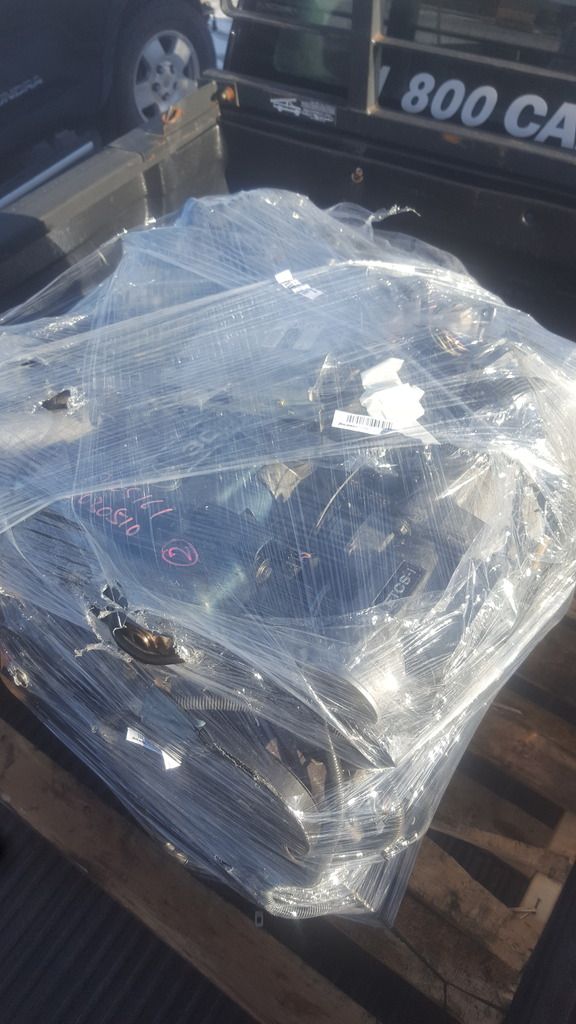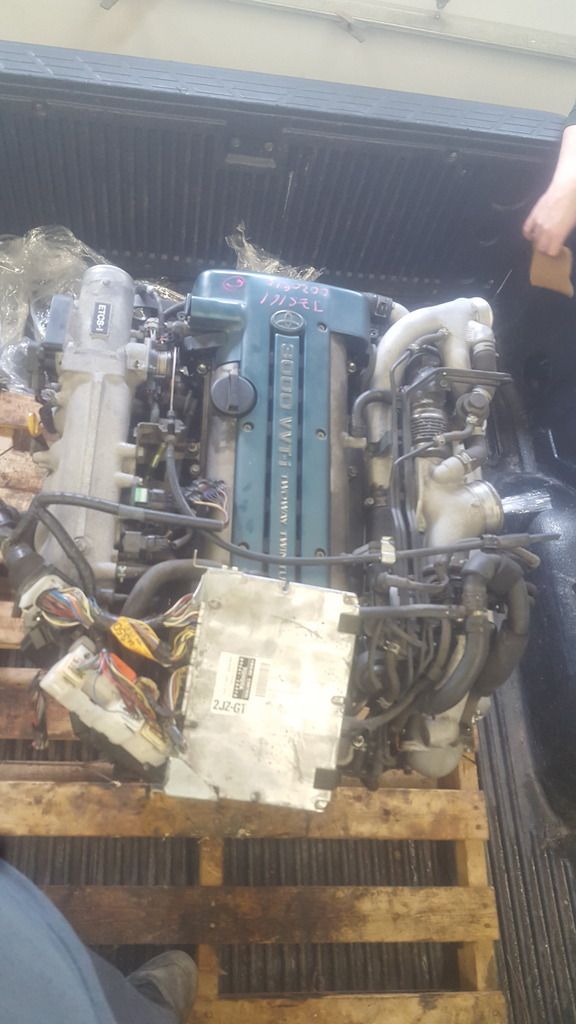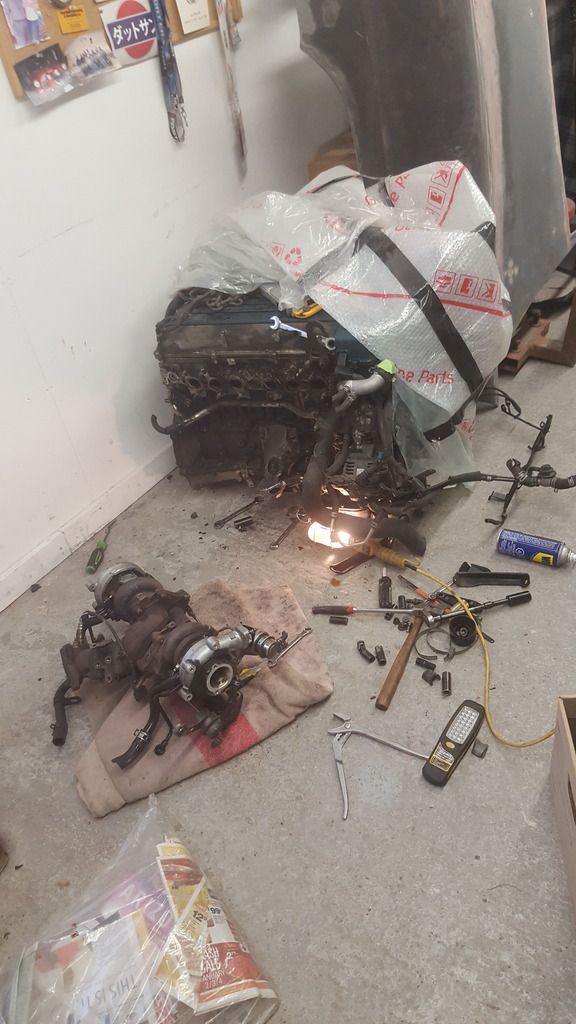 Gotta ditch that twin set-up!, I'm going with a massive single.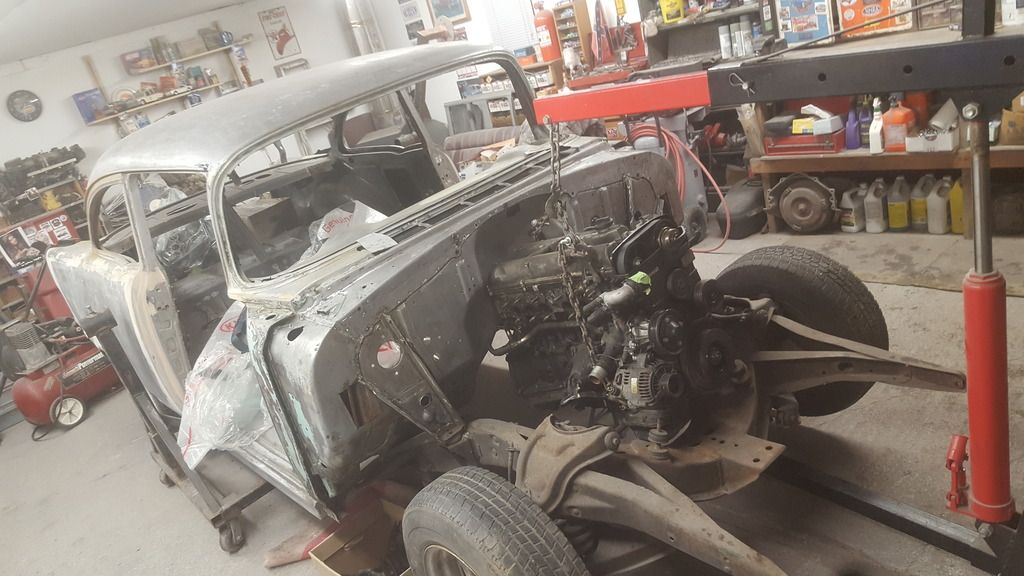 That's right. This is going to be a 2JZ swap. I just figured I'd throw it in there to see how well it fits, and honestly it fits better than I thought.
I need to modify the front crossmember a bit, build a couple motor mounts, and modify the firewall, but that's all in the name of fun!
I need to pick up a transmission right away too. I'm thinking about going with the CD009 350z 6-speed. It's too hard to find a T56, or R154 around where I live.
The other week I got a little bit of free time and I ended up taking the frame out from under the car, as it's going to be replaced with the frame from under my 4-door.
I'm trying to set up the rotisserie my father managed to pick up, to work for the car. It's originally off a chevelle. The front won't be so bad but the back is going to be troublesome.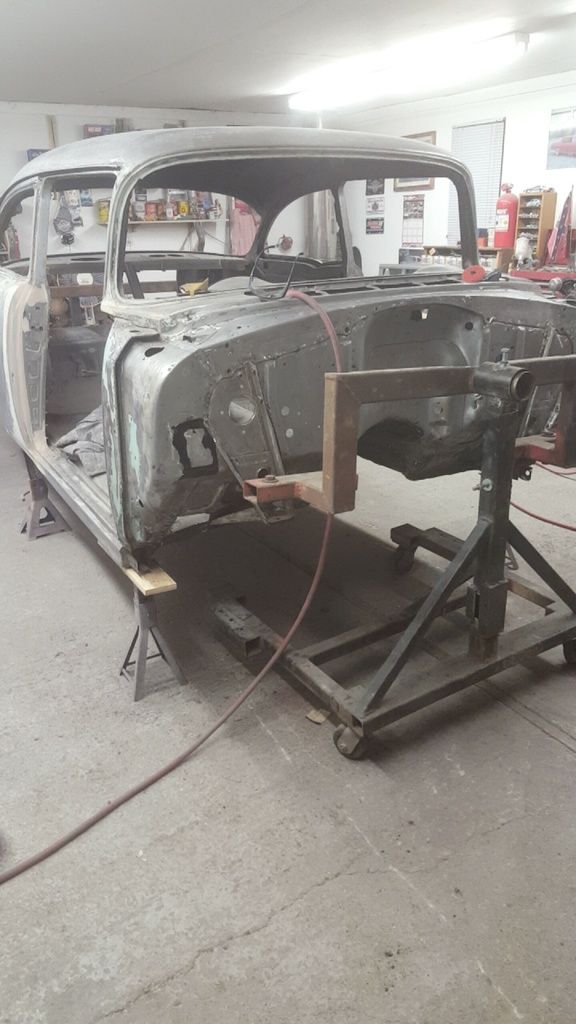 I ended up getting bored tonight and cut out the firewall. I figured I misawell get all that metalwork done before I epoxy everything.
I ended up not having cardboard so I gave up for the night as I couldn't even make any templates haha.
The plan for the car is essentially for it to look like this.(modelkits not finished in this pic haha)
It's going Roulette green, with white two-tone.
The biggest things I need to get on the go right now, is figuring out rear suspension(I'm really debating on doing an IRS set-up, but unsure of what to base it from.possibly a MK4 Supra or C4 Corvette??), order a transmission so I can mockup the motor+trans with the suspension when it's done, and get a rollcage on the go.
The body is not going to be a problem as it's what I do for a living, but it's going to be sooo time-consuming...
It's really early in the game, but you gotta try and get what you can figured out as early on as possible.
Here's another picture from before I tore down the four-door + got it blasted/sealed, with my fathers '55 and my 510!