After spending the last 6 years
building the 510
, I've always been hankering for an S chassis car.
510 for reference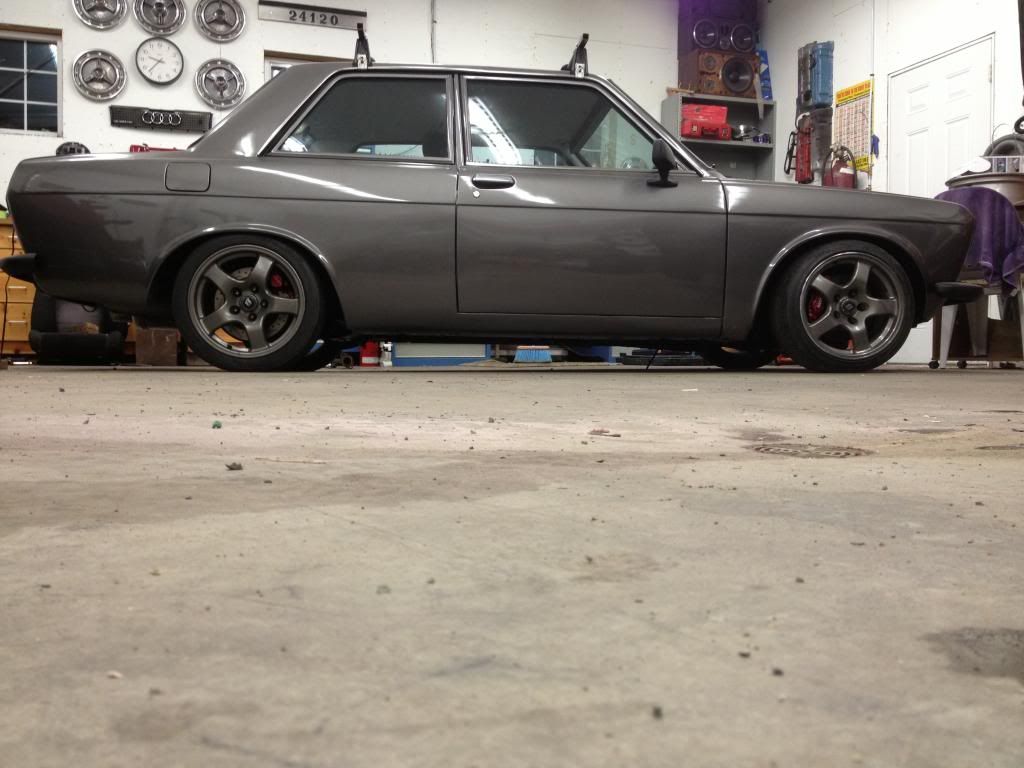 This whole project kind of fell into my lap and now that I have some semblance of a plan I figured I would outline it.
Pops picked up the 1995 240sx for a great deal on craigslist since it needed an alternator. Ran mint with a fresh battery and he drove it onto the trailer to get it home. The good motorset will be pulled and dropped into the
Datsun 521 pickup
. The plan was to recup the motorset cost from parting out the 240. I had done this with great success on the S13 I parted out whilst building my 510 so why not do it again?? After ripping up and down the street in the 240, I got hooked. It drove really nice (for a 20 year old stock 240). The chassis is also super mint with no rust so it seemed like a shame to chop it up and ruin it.
Knowing that I didn't need another project, the S14 sat around for a while awaiting its organ donation. Occasionally, I would drool online at LSx powered S chassis cars for the sweet torque and awesome weight distribution but school, time, money, and a disassembled 510 always managed to steer me away from this project.
This spring I stumbled upon a wrecked Skyline GTR by fluke that was too good to pass up. After scooping it up, I immediately started researching the 26 swap. While not as light as the LS motors, it is in the family and has 2 hairdryers
That pretty much brings us up to date…
I went with an OEM flare on the 510 build for a few reasons. A couple of the biggest reasons were durability and reliability and of course cost. I enjoy being a junkyard dog and hunting down all the good OEM bits is fun for me.
The S14 build is going to go with a very similar flare. Trying to keep the costs down a bit and build it for reliability and fun. I want something that's quicker than the 510 and that I can blast down the freeway comfortably in. I'm also itching to get my hands dirty on a new chassis since I've learned quite a bit from the 510 project. Going to try for the awkward balance between performance street car and race car by trying not to solid mount everything. I'm going with 17s to try to keep some rubber between the rims/road to improve the ride quality as well despite my love for big ballin 18s on S14s.
RBs make pretty wicked torque down low so this should be right up my alley alongside the KA 510 and Pops' Duramax pickup. This thing should blow the doors of my dads S2k.
Here's a dyno sheet of a stock RB26 in an S13 which is essentially the power I'm striving for. Hoping to not exceed 2950 lbs without a driver.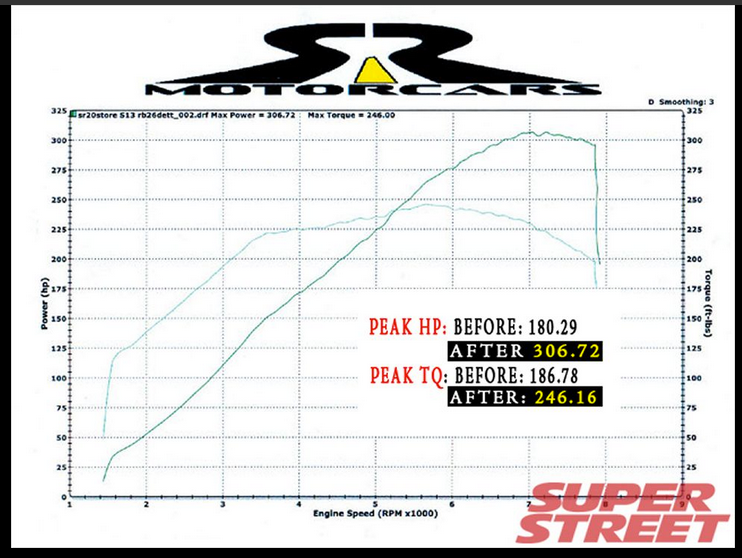 I'm going to keep Golddust the "beautiful" gold color and keep most of the mods restricted to the engine/suspension/brakes end of things. I'm going to try to resist powdercoating everything but the cam/coilpack covers and some other tasteful bits will be powdered candy apple red. She's gonna be pretty sleepy on the outside.
Without further ado, here's the list.
Drivetrain:
1990 Skyline GTR RB26DETT
Stock turbos
Stock management
Stock injectors
Stock engine/trans isolators
Custom engine/trans mounts
Yellow Jacket coilpacks
Oil pump fix
Modified oilpan/chopped off front diff
Greddy boost controller
HKS shroom filters
R32 GTR rad
Unsure of fan/shroud setup ATM.
Intercooler to fit in stock bumper
Custom stainless downpipes
Custom 3.5" stainless exhaust
HKS twin disc clutch (pull type)
R32 GTR boosted clutch
Z32 R30A 5 speed with 26 bellhousing swap
Short shifter
Modified front shaft on GTR 2 piece prop shaft or 1 piece driveline
R32 GTR 4.11 2 way 6 bolt LSD
R32 GTR CV 6 bolt half shafts
R32 GTR large spline hubs
Wheels/Brakes:
R33 GTR rims 17x9ET30 forged aluminum
245/40 front tires
265/40 rear tires
R32 GTR 296x32 front brakes
R32 GTR 296x18 rear brakes
R32 GTR internal ebrake assembly
Possibly R32 or Z32 master cyl
Interior:
Stock leather
Greddy boost gauge
Retained AC
Suspension:
Front:
Megan street type coilovers w/ camber plates
Adjustable front TC rods
Adjustable front LCAs
S13 Hicas steering rack (2.6 lock to lock)
Rack spacers ( for parallel parking :p )
Poly rack bushings
Poly sway bar bushings
Stock S14 sway bar
Rear:
R32 or Z32 or R33 aluminum knuckles
Adjustable RUCAs
Adjustable toe arms
Adjustable traction rods
Poly CABs
SPL solid subframe risers (Fix roll center)
S14 or R32 GTR tubular rear ARB
Other:
Possibly R32 GTR 70L fuel tank
The dreaming list:
Nistune
Upgraded turbos/inj/fuel setup
Z33 front brembos with R32 Vspec rear brembos
Kouki conversion
Pearly white paint job
Meet Golddust!!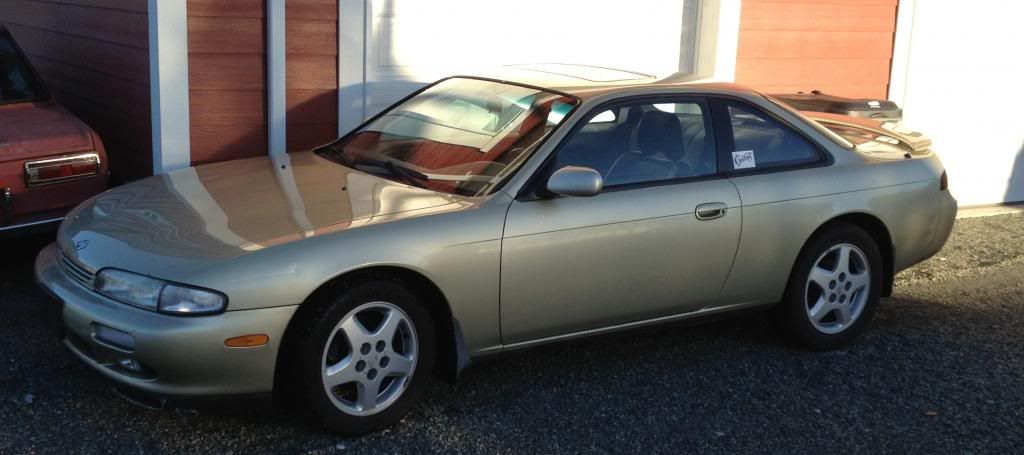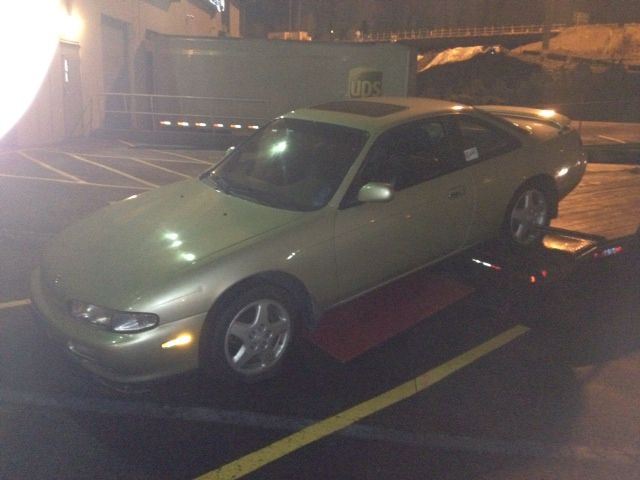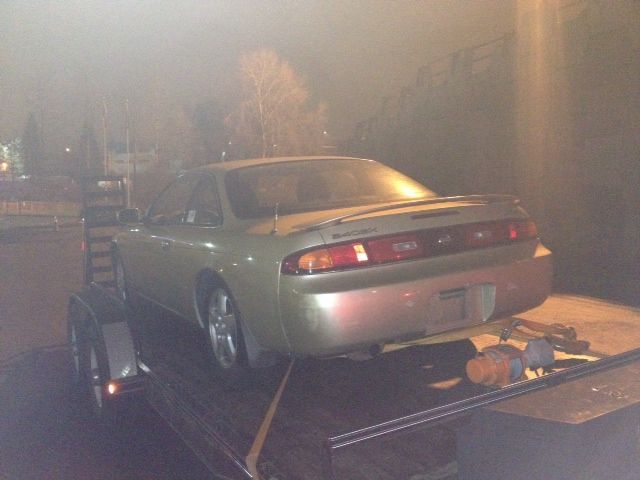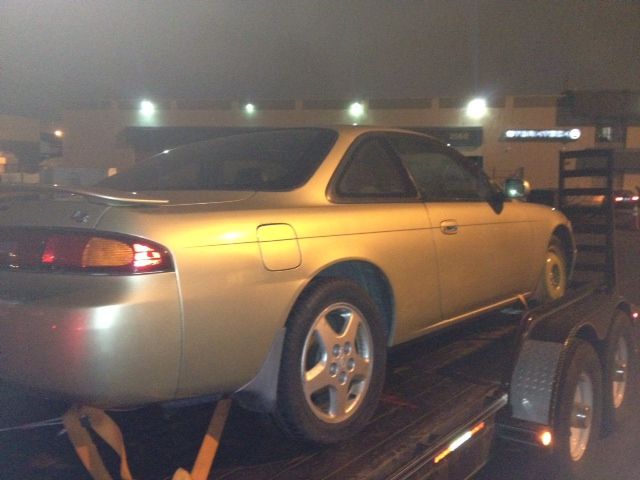 Pics of the GTR when picked up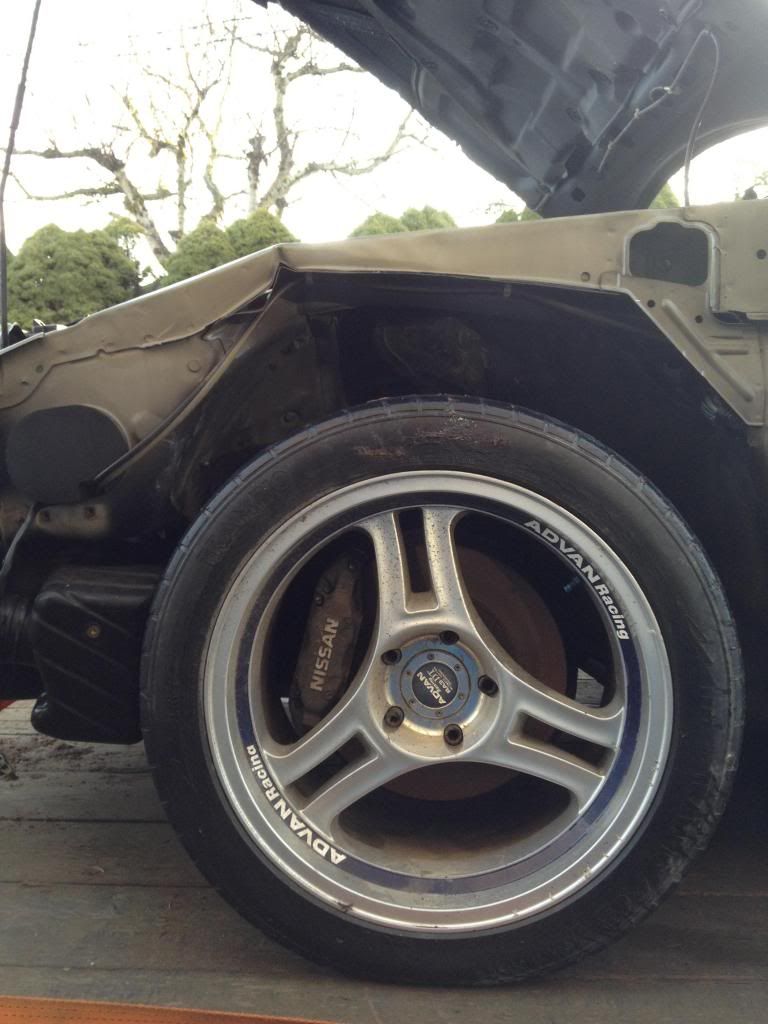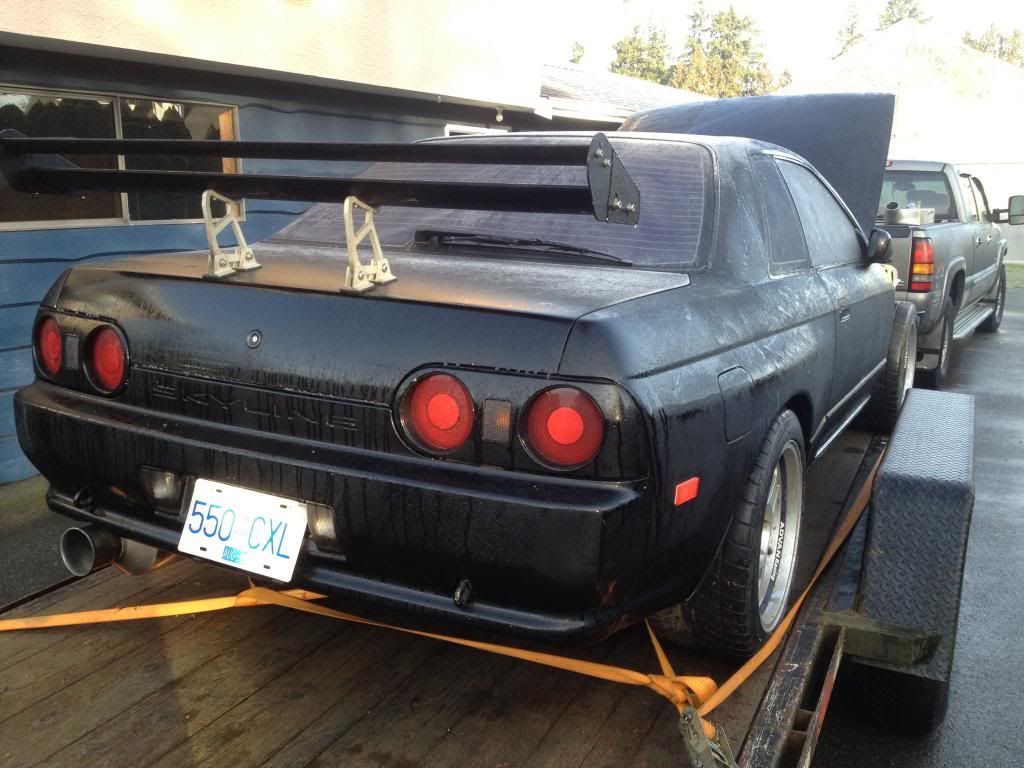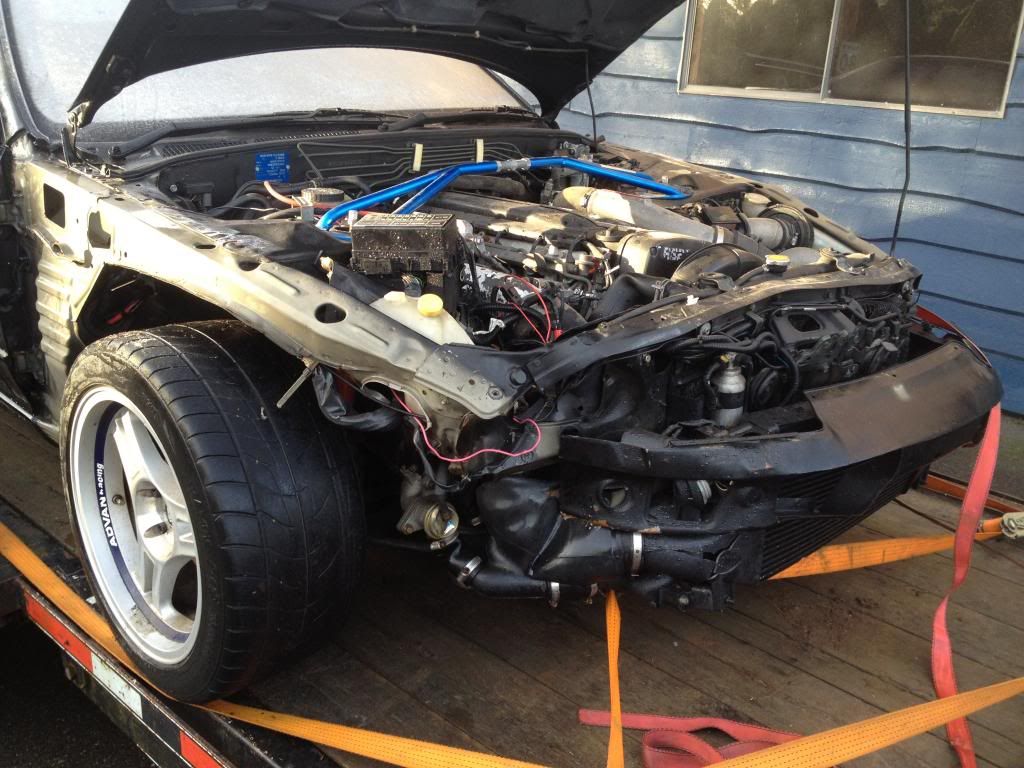 Pics of ghetto repaired intercooler to get the GTR going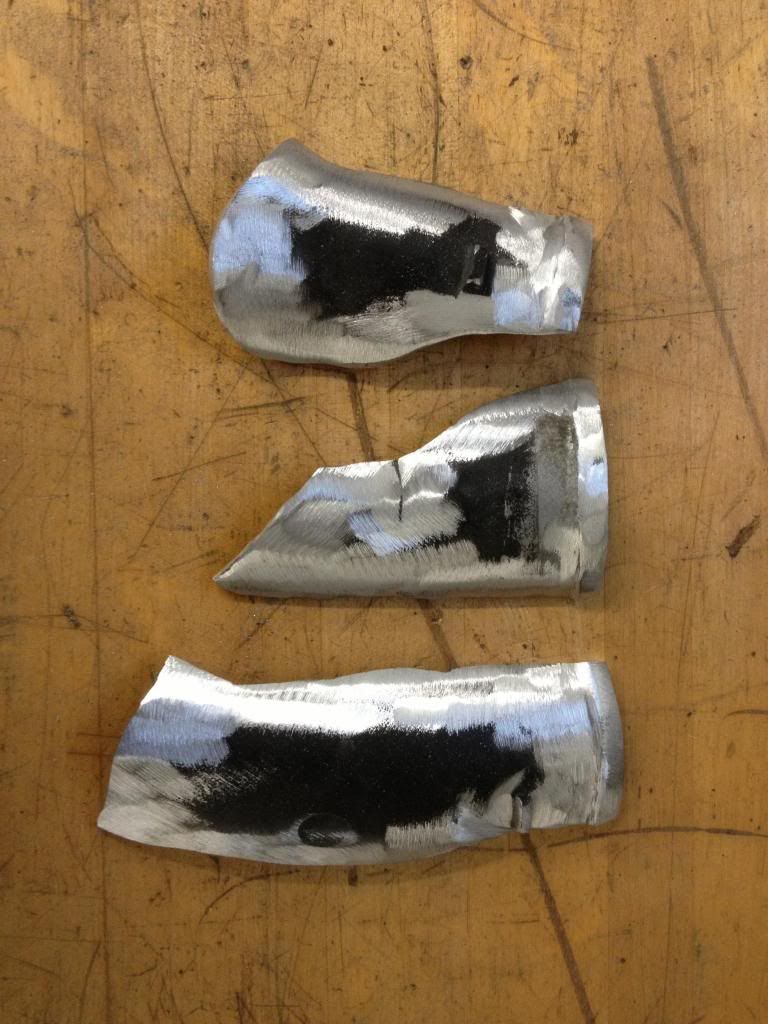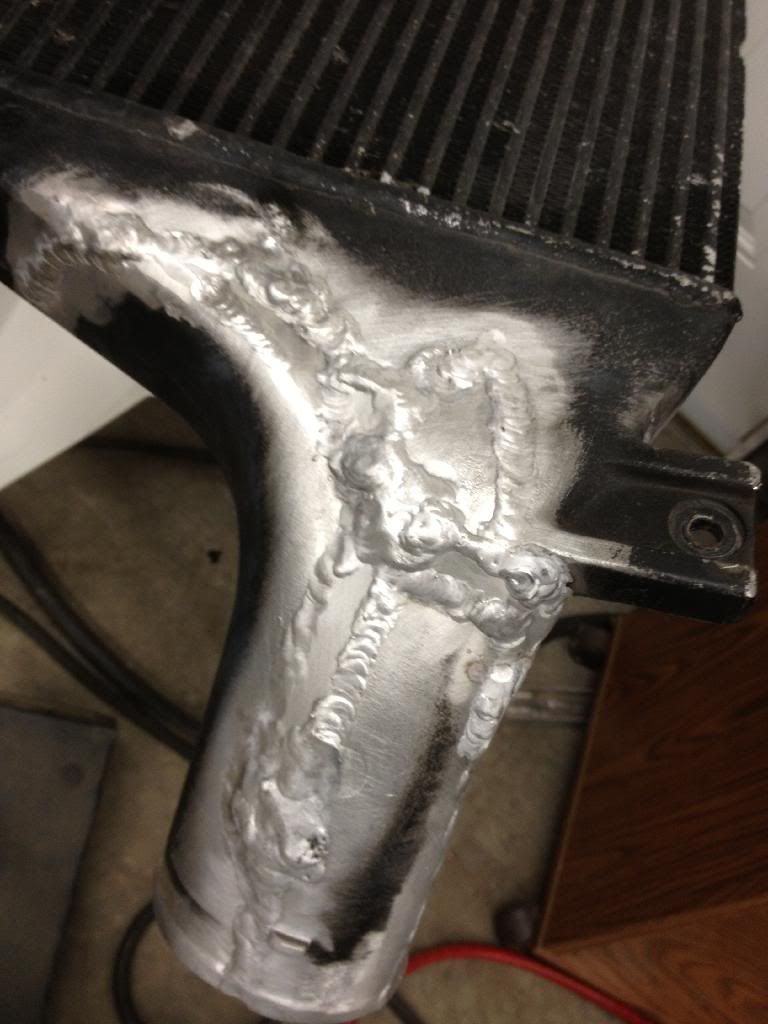 Some of the funny business I'm in for WRT the downpipe
Token shot of GTR rims on S14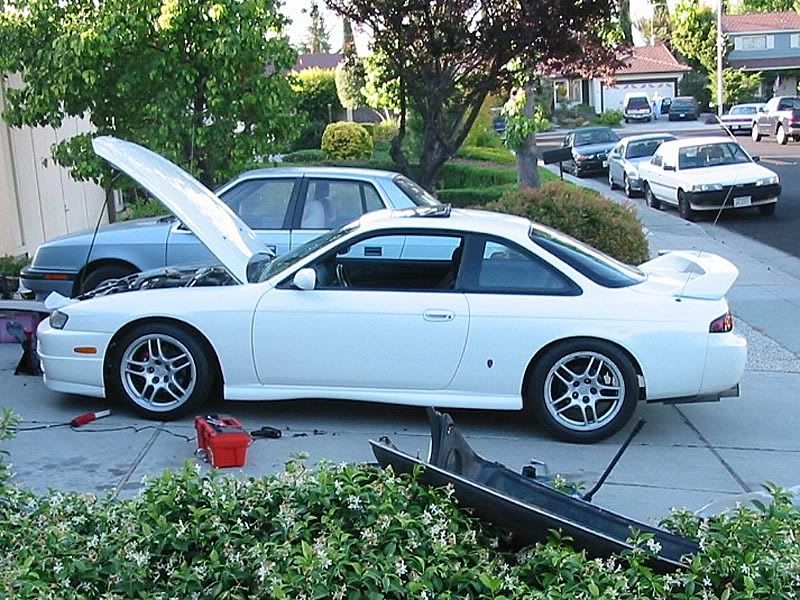 Pretty excited to get going on this!!
Stay tuned for some updates as they come. They'll be a bit slow for a while since I'm out of commission for a bit but we'll get there.