Well Im not really sure where to start this story.So im just going to start it!
I had traded an old s13 coupe shell of mine for a running hatchback s13 from a local jdm junkyard/partsdealer in september of 2009 in order to drive in a amature competition at race city. The car came with no brakes, popped 3 tires on the way home, only had one headlight, no interior, been in a few drifting accidents before, and had generally lived an exciting life. Through my grade 12 year i rebuilt/drifted that car in my highschools automotive/autobody classes/ local drift events and drift spots and sold it for a decent amount of money at the end of the year.
A decent amount of money which i used to import this beautiful work of nissan history. The Nissan Skyline!
I have always been in love with oldschool japanese nissans and drifting, and they the R32 seemed like an unattainable goal. There was one locally that was/is one of the nicest r32s ever, and the driver at the time dominated all the local/national competition. In the end i was left with a sort of legendary romance with skylines, and the only day in my life I've ever had enough money to actually buy one, thats exactly what i did.
And there she was.
I knew it was love the first time I saw the ad, and i have not stopped loving her a day since.
When she landed in canada, she took a train from Vancouver, BC to Calgary, AB. At the time i was in college near Saskatoon, SK, so when i came home on thanksgiving to find my family out of town, me and Veronica shared a Delissio Pizza (not delivery) on the shop floor on the first night we met.
First thing was first, If she was going to be my bitch? She's got to have some attitude.
Coilovers and wheels.
getting all up in that ass! haha
Now that a girl got some sass in her ass and some junk in her trunk, ( thanks to HeatBloomMatt for the wheels and coilovers) Its time to move to BC.
I suppose i am just a romantic fellow, or perhaps its just about a few things, but Skylines, dark haired women, and British Columbia have always started my fire. As an Albertan this place always felt cold and empty, I always longed for the ocean and the sun, and when our family would adventure out to the coast in the summer i would finally feel alive. So I packed my **** in my four door, ( and i mean PACKED) and i left my life behind to start something for myself on Vancouver Island.
And as a naive 19 year old i started my TERRIFYING journey through the Canadian Rocky Mountains on January 5th on worn 215/40/18 kumho exctas. haha I wont bother to type out the whole adventure but it was really quite a trip, which involved getting stuck in Golden, BC and having to buy some spare spacers and tires off of an employees shed at a tire shop. Me and my faithful friend Jonathan made the trip together, and thats his white 500hp Subaru he was taking to crawford to get re tuned.
But my baby got some new shoes, and i finally got some traction. haha. just a little though.
Finally at home on the island i put the shiny wheels back on and hit up some drift events down in Victoria at Western Speedway. Met a bunch of rad dudes, and a bunch of dicks. But overall Victoria is a really cool scene, its just a shame the government have such harsh laws, it makes it really hard to daily your drift car, and im way too committed to Veronica to shove her in a shed for any more time than i already do!
I did my first couple events with the stock viscous diff, a hicas system that worked great (makes drifting really...spontaneous?haha) and got my hands on this nasty aids steering wheel from a mini cooper, and made this bubble shift knob out of a shower towel rack! I used the chrome tube off of it to make my ebrake nice and chrome, which actually turned out perfectly. At this point in my life i had moved down to Victoria and didn't have a lot of money, so i was scrapping together what i could in order to get out there and sling it with the guys.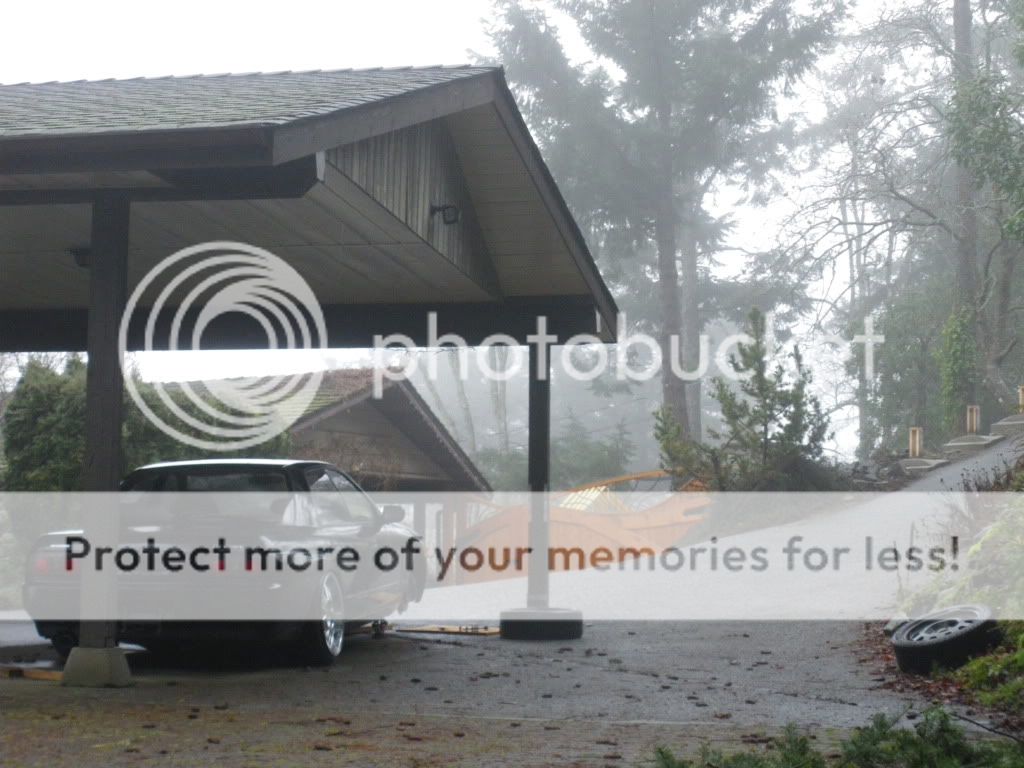 But thats exactly what i did!
Me and Veronica at this point had been homeless together a few times as well. She was my only possession at times, and we also laughed atop the mountain and looked over the city as king and queen. I moved away from all of my friends and family and found great struggle in really connecting with the strangers around me, so to me Veronica was home away from home. We adventured as often as my wallet allowed and have shared too many memories to articulate them all, but ill post a few.
The bay down from my house in Nanaimo
Making close friends together
Getting a serious (real)girlfriend...
Competing at Western speedway
Diff shimming/**** HICAS party with my brothers R32 and best buddy Sheldon from Limiters Unlimited in Victoria.
Replacing axles (seems to be a reoccuring theme...)
I really got involved in the drifting community there, and although i was literally living in the forrest and starving, i managed to keep a smile on my face and a spring in my step. I would volunteer at the event when i couldnt afford to drive, and was working building docks in my days.
I got to slide along side Drift Union, and many other well respected teams and drivers.
And this wall!
And best of all, my friends.
I slid a lot, and learned alot about the cars and world around me, as well as myself.
Seagull SMASH! (yes i actually got him. Dumbass seagull decided to chill in the middle of an active raceway...no he didn't die, just got a lil bump haha)
Broke my hicas bar, doing a quick repair thanks to J Blake Welding! ( sorry for the crap pic)
Yep. It was a good life in Victoria. No, a great life! I had loved and lost, explored and grew, and really enjoyed being out and on my own. But in the end it was too hard to find a job there, and it was a such a poor lifestyle that after two long rambling years i finally moved back to lethbridge to reap from the benefits of oil money, a stable income and really dig myself out of a hole of financial and emotional debt.